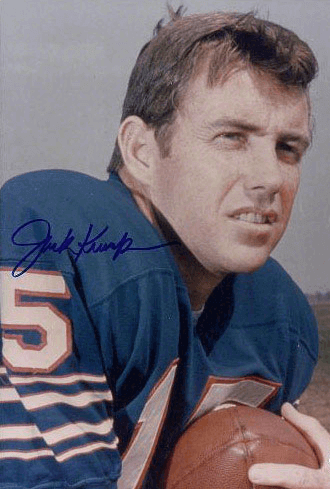 Last week I wrote about some uniform catalogs I acquired from the collection of the late Mike Hersh. One of those catalogs — a Spanjian catalog from 1971 — had an interesting detail that I neglected to mention.
If you look at this page, second row, second stirrup from the left and this page, third row, sixth sleeve from the left, you'll see a stripe pattern that's labeled as "Utah style." I immediately recognized it as the pattern worn by the Bills in the 1960s. But I'd never seen or heard it referred to as "Utah style" or "Utah stripes" (or as anything else), even though I own several dozen uniform catalogs from that period. Was this a common term, like Northwestern stripes or UCLA stripes?
My go-to guy for this sort of question is sporting goods scholar Terry Proctor, so I shot him a note. Here's his response:
I believe that Utah used that pattern in the late 1950s or early 1960s, since Buffalo didn't adopt the style until 1964. … Although not as well known or popular as Northwestern striping or UCLA inserts, they would be referred to as "Utah stripes" in the trade, because of the association with the Utes.
Interesting. I did a few quick photo searches and couldn't find any old Utah football photos showing this stripe pattern. So I called Utah's media relations department, where two extremely helpful people offered to investigate for me. One of those people looked in old Utes yearbooks dating back to 1905. But while she found photos showing all sorts of stripe patterns, none of them matched the pattern shown in the Spanjian catalog. (In fact, the Utes mostly seem to have worn Northwestern striping over the years.)
So I feel like I've hit a bit of a dead end on this one. Anyone have any additional info and/or photos? And have any other teams worn this stripe pattern?
+ + + + +
Knishery update: Remember that Knicks/Knish T-shirt design I was toying around with? Again, this shirt isn't available, but it's still a fun concept, so I've kept tinkering with it — just for fun, you understand — and made the knish look a bit more, well, knish-like (click to enlarge):
Although this is just a concept, I'm nonetheless curious to gauge its appeal. Can I see a show of hands?
+ + + + +
Uni Watch News Ticker: The Twins and Brewers will wear these very nice minor league throwbacks on May 30. The game will be at Target Field, which means the Twins will be wearing gray at home. "We wanted our two St. Paul-born players (Mauer and Perkins) to have a chance to wear the hometown name across the chest," explains team president Dave St. Peter. … According to an Emory University Sports Marketing Analytics study, teams that stop using Native American mascots take a one- or two-year financial hit followed by long-term financial gains, and "no long-term negative effect on brand equity." … Meanwhile, many Native Americans in Virginia have no problem with the Redskins' team name (from Tommy the CPA). … This is awesome: an infographic showing which bumblebee uni combo the Pirates wore for each game of the 1979 season. Further details here. … New away kit for Utrecht (from Brett Stone). … New volleyball uniforms for the Japanese women's national team (from Jeremy Brahm). … Latest college baseball team to let fans choose the uniforms for a given game: Virgnia Tech (from Steve Hicks). … Uniform designer Todd Radom was interviewed by ESPN baseball columnist Buster Olney in this podcast. Todd's segment starts at about the 19:30 mark. … More Negro Leagues video footage, including an amazing-looking pregame comedy routine by Goose Tatum, here (from Jake Kessler). … And while we're at it, here's a 1946 promotional film from the Pacific Coast League (from Adam Jackson). … Jimmy Mac collects A's flannel vests from 1968-71 and would like to hear from other A's collectors. If that's you, contact him here. "¦ What the hell could this Orioles "B.O." button has been about? (From Comrade Robert Marshall.) … Carl Yastrzemski's grandson, who plays for Vanderbilt, turned down the chance to wear No. 8 and wears 18 instead (from Scott Ingalsbe). … Blake Gantz had a little back-and-forth with Mark Cuban regarding the Mavs redesign. … Kevin Durant was wearing a SuperSonics cap the other day (from Jimmy Couto). … All U. of Hawaii men's teams will be called the Rainbow Warriors after all (from Bill Sodeman). … Arguably the ugliest uniforms in sports history are making a comeback — sort of (thanks, Phil). … Speaking of ugly uniforms, check out the 1979 Charleston Charlies (from Doug Ford). … We're getting our first look at the Jags' helmet on the practice field, and it looks about as stupid as you'd expect (Phil again). … The Fremantle Dockers (Aussie football) will wear this unusual design during the 2013 Indigenous Round vs. the Melbourne Demons on May 26. "The Indigenous Round is played annually 'with the aim being to celebrate the contribution of all indigenous players to the AFL,'" explains Leo Strawn Jr. "¦ Good spot by Kevin Kennaley, who writes: "The Giants are in Toronto for a quick two-game series, which meant that Melky Cabrera, who's now with the Jays but was with the Giants last season, got his World Series ring from them before the game, as well as a handful of bats from before his suspension last year — one of which he used in last night's game. He went four for five against his old team." "¦ Also from Kevin: "During his recent end-of-season press conference, Canucks GM Mike Gillis had a bottle of Canucks-branded water."
Battle of the Uniforms: Voting in the second round remains open until 9am Eastern. The big surprise is that the vote between the Yanks and A's is going right down to the wire, which I'm rather pleased about. The next round should be up and running by noon.