Photo by Barbara Henderson; click to enlarge
[Editor's Note: Today we have a guest entry from Bill Henderson. You may know him as the guy behind the world's most awesome MLB jersey guide, but it turns out he's been working on a DIY project as well. Enjoy. "" Paul]
By Bill Henderson
As an impassioned collector of MLB jerseys (okay, more like a certified compulsive collector) and a major fan of the Phillies, I thought how nice it would be to have Phillies jerseys going back many decades in time. True, Mitchell & Ness makes a nice selection of older flannel jerseys, but not all of them are authentic enough when compared to period photos to suit me, especially those made prior to 2008 or so, when the "originality" of the artwork was, let's be honest, not very accurate. So I decided to create my own throwback Phillies jerseys, which would give me complete control of every detail. (As a side note, I have been helping Mitchell & Ness for the past couple of years in an advisory role, and have been impressed with their renewed commitment to accuracy and originality.)
Some of you may be surprised to hear that I care about pre-1970 jerseys. But while the current volume of my jersey guide covers the years 1970 through 2012, my dream is to someday write a follow-on edition covering the decades prior to 1970. Back in those earlier years, a used baseball uniform had little or no collector value, so the jerseys were routinely sewn, stripped, resewn, and reused until they literally fell apart and were discarded. Period photos of players on the field are therefore necessary to put together a responsible and accurate volume covering jerseys worn during that time, and I have amassed a large collection of such photos, going back to the turn of the 20th century.
Using these original photographs and my knowledge of Adobe Illustrator, I have been able to re-create the front wordmarks and back numbers of many of these early Phillies jerseys with a high degree of precision, leaving almost nothing to artistic interpretation. Back numbers are especially hard to do, because so few pre-1950 photos of players' backs exist. Often they must be inferred and deciphered from action photos identifying only the other team.
As Marc Okkonen noted in his seminal book Baseball Uniforms of the Twentieth Century, one of the hardest things is to correctly assess colors when looking at black-and-white photographs. There are some tricks that can help, mostly by matching shades of gray in photos to known elements such as socks and hats. Photographers of the day often used polarizing filters on their lenses that reduced glare but often shifted colors as well, which can be useful in helping to determine which grays might be blues and which might be reds.
Once I got all the proper graphics and colors, the next step was to find flannel jerseys I could use as a canvas. Scouring eBay and antique clothing sources, I look for antique flannel jerseys that are unadorned, and have also been able to find some blank Ebbets Field Flannel and Mitchell & Ness flannel jerseys to use for my project.
Another Uni Watch contributor, David "Frosty" Frost, has been my co-conspirator on this project, turning my Illustrator files into perfect wool felt reproductions of the original art, and then sewing them all in place along with the proper piping and trim. (As you can see on his web site, he's highly skilled at producing custom jerseys.) Working strictly for fun — always the best reason to do anything — we've so far done five of these reproductions, as follows:
• 1937 Road gray with sun collar, a one year design. Here's how it looked in Okkonen's book:
As you can see, the home and road had the same script. Here are some shots of the home jersey:
Since the road script was the same as the home version, Frosty and I were able to use these images to create this road reproduction:
• 1939 Home jersey with Baseball Centennial patch, cream-colored flannel, crimson and navy blue felt. Here's the Okkonen mock-up, followed by a several period photos:
And here is the reproduction jersey we made, using those photos for reference:
•  1942 home and 1942 away, a one-year navy blue wartime color scheme, kind of dour and dark, both jerseys with the 1942-only "Health" sleeve patch. Here's Okkonen's mock-up and some period photos:
And here are my resulting home and road reproductions:
• 1946 home jersey, another one-year style, which is similar but not identical to the more popularly reproduced 1947-49 jersey. On the 1946 model, trim is placed differently and the team wordmark is much more formal and true to the team script (as found on team letterhead and other printed materials). It is larger and in a straight line, instead of playfully curved as the 1947-49 version.
Again, here's the Okkonen version and some period photos:
And here's my reproduction of that jersey:
Working in flannel and felt is fun "" and I have a bunch more to do. While we might decry today's revolving-door uniform styles as a break with tradition, as you can see, the Phillies had no problems changing things up in their pre-1950 years!
+ + + + +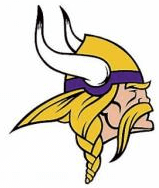 Vikings News, Contest: The Vikings announced yesterday that they'll be unveiling their new uniforms on April 25. They plan to give a series of teasers, which means there'll be lots of leaks, rumors, false starts, and assorted whoop-de-do.
The redesign contests I do over on ESPN.com are always fun, so let's beat the Vikes to the punch. I've just announced a Vikings redesign contest, so get cracking on your designs. Deadline is April 11.
+ + + + +
ESPN reminder: In case you missed it yesterday, my latest ESPN column is the annual MLB season preview.
One thing I didn't mention in that column, because I forgot, is that the Blue Jays had said they'd be wearing their BP cap for Canada Day. Good thing I didn't mention it, because reader Mike O'Connor points out that the team's promo calendar shows them wearing a red cap on Canada Day. Hmmmmm.
OMFG reminder: I also had a new One-Man Focus Group column yesterday, about the redesigned Pepsi bottle.
+ + + + +
Uni Watch News Ticker: "I was looking through the pictures they've posted for the players that are in the vote for the next Madden cover and noticed something interesting/disturbing," says Daniel Baran. "The vote includes both current players and legends from each team. The interesting part is that even for the legends, they are outfitted in the new Nike jersey, as you can see in the images of Marshall Faulk and Joe Montana. Weird to see them in those jerseys." … Ben Traxel and Aaron Duncan have been making some very cool custom hockey puck designs. "Our original idea was to make them for clients of our architectural firm," says Ben. "We work for a number of public school systems around here, and of course hockey doesn't exist in these here parts [the bootheel of Missouri]. So we put the school logo on one side, our contact info on the back, and give them out to the superintendents. Since most people don't have anything like this, it always becomes a conversation piece and keeps our name on their display shelf in their office." … Here's a slideshow that purports to show a bunch of new leaked Premier League kits (from Patrick Runge). … The United States Mint is has announced a design competition for a Baseball Hall of Fame commemorative coin. Further info here. … Phil Brame reports that MLB The Show 13 shows a Cubs blue alt jersey with a front uni number. If that's actually in the works for on-field use, it'd be news to me. … The New Girl likes boxer briefs. So I thought, "Okay, I'll go get me some boxer briefs." Picked up a two-pack of these, put on a pair, and was dumbfounded to find they don't have a slit for peeing. Like, what's the deal?! I mean, this is underwear, right? It's supposed to have a pee slit! Grrrrr. … "A service course is a central location where pro cycling teams store all of their gear," says Sean Clancy. "It is also apparrently where team-related mementoes are stored (bobbleheads! signed jerseys!). Here's a look at the one for Belgian squad Omega Pharma Quick Step." … Here's still more about Jim Boeheim's custom suit linings (from Alex Burns). … This might be the best soda display ever: Brewers racing sausages! (Big thanks to Nicole Haase.) … The Springfield Cardinals will be wearing the Stan Musial memorial patch (from Jeff Kessinger). … I recently mentioned that the official WNBA ball appeared to have a new logo. Now it's official. "¦ Deadspin ran a feature on former college hoops player Lionel Simmons yesterday. If you scroll down to the embedded video in the middle of the page and skip to the 0:59 mark, you'll see some sleeved basketball jerseys from back in the day (from Sean Walsh). "¦ Rangers goalie Henrik Lundqvist wears a glove — looks sort of like a golf glove or a batting glove — on his blocker hand (from Jeff Czuba). "¦ "Vincent Kompany, star centerback and Captain of Manchester City FC, has purchased FC Bleid, a struggling club in the third tier of Belgian football," says Cort McMurray. "He's decided the club needs a total overhaul, beginning with a new name. There's a contest. Information here." "¦ "As you know, most tourney teams have the NCAA patch on the left because the uniform manufacturer's logo is on the right," says . "Wichita State doesn't have a maker's mark, but they do have a U.S. flag patch on the left. So their NCAA logo is on the right. And there is one player who doesn't have the flag patch at all." "¦ Speaking of Wichita State, Matthew Blinco notes that some of their white jerseys have straight lettering while others are arched. This has apparently been an issue at least since last season. "¦ Jake Long, newly acquired by the Rams, will wear No. 77 (from Scott Sobelman). … Coupla dozen great old baseball shots here (from Leo Strawn Jr.).