Photo by David Brown; click to enlarge
Today is my 49th birthday. A few thoughts on that topic:
• Today is also the 10th birthday of my Brannock Device tattoo, which I got on the afternoon of March 21, 2003. The photo you see above was taken at the party I convened that evening (at the very wonderful and now-defunct Long Island Bar & Restaurant, RIP), about five hours after the tat was inked. A decade on, the tat still looks very solid and pretty damn crisp, although it's now more bluish-green than black.
• As I noted a few years back in the obituary I wrote for my father, my birthday usually involves a certain meteorological consistency. Here's the story, cribbed from that obit:
When I turned nine years old, my outdoor birthday party was rained out and I was pretty inconsolable, but Pop said, "Oh, don't you know? Rain on your birthday is a sign of good luck in the year to come." It was a very sweet lie that he came up with on the spot. Rather amazingly, it rained on my birthday for the next 34 years in a row after that (really!).
As you can figure out by doing the math, it did not rain when I turned 44. But that is the only time in the past four decades that it has not rained (or occasionally snowed, or even hailed) on my birthday. As recently as two days ago, that streak appeared to be in jeopardy, as the forecast showed only a 20% chance of rain. As of this morning, however, we're showing a 50% chance of snow showers — not bad! I'm rooting for some form of precipitation, no matter how minor.
• One of my deceased sisters-in-law had the same birthday as mine (but was much older). She died of cancer about eight years ago. This means my birthday must be a sad day for my brother, who of course is thinking of his late wife. Despite this, he always calls, takes me out or gives me a present, the whole bit. I'm always extra-appreciative of that.
I have a big day planned. The New Girl (yes, there's a new girl) is taking me out for mid-afternoon lunch at Peter Luger. Then we'll go to Manhattan and meet up for drinks with my friend Matt, who has the same birthday as mine — same day, same year. Then we'll decamp to Otto's Shrunken Head, where the mighty Susquehanna Industrial Tool + Die Co. will be playing. Should be quite the raucous caucus.
Thanks for indulging my ramblings. One further indulgence: Please, no Ticker submissions today unless it's serious breaking news. Thanks.
(Bonus thanks to Phil. He knows why.)
+ + + + +
ESPN reminder: In case you missed it yesterday, my latest ESPN column is ostensibly about the Fruit Stripe uniforms, although it's really just another excuse for me to talk about my birthday.
+ + + + +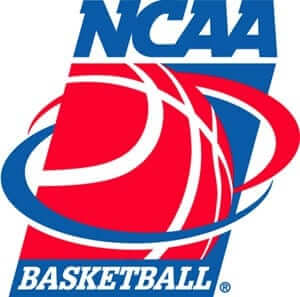 March Madness reminder: Today's the last day to sign up for the Uni Watch bracket contest. Winner gets a freebie from my swag bag. Details here.
And as long as we're talking about March Madness, reader Chris Dobbertean offers the following analysis regarding the court designs from the play-in games:
I noticed three things during First Four games on Tuesday night — a couple of positives and one negative that I wasn't expecting at all. These things even managed to distract me from the bland, standardized "Stepford Courts" that the NCAA has implemented over the past five seasons.

On the plus side, they've added a sideline logo for the 75th anniversary of the NCAA basketball championship, much like they did with the 50th-anniversary logo back in 1988. They've also added a graphic featuring the school name, logo, and conference logo in the rotation on the electronic graphics board on the scorer's table. In the most recent past, they'd just put the two team names in those spots. At sites where they just had a banner on the scorer's table (no electronic or rotating advertising board), they'd actually send someone out to change the team names during the break between games.

Negatively, as part of the rotating graphics package, they've added banners that read "[Insert Logo of Sponsor Here] Salutes NCAA Student-Athletes." I saw them for Capital One, Enterprise Car Rental, and Nabisco, so I have to assume that all NCAA sponsors from their "Corporate Champion" and "Corporate Partner" levels must be receiving the same treatment. (Capital One is a "Champion" while the other two are mere "Partners.")

I've been watching this tournament for a very long time and have never seen advertising this obvious. Seems to me that the NCAA has taken the next step up from making people place their beverages in sponsored cups. I'll be curious to see if this is something that's repeated at the variety of sites in use between Thursday and Sunday, or if this is a limited thing.
+ + + + +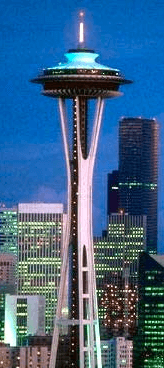 Seattle party update: Our upcoming Seattle Uni Watch party now has a venue. We will convene on Monday, April 8, 7:30pm, at the College Inn Pub. They have food, they have pinball, and they have a back room, which I have reserved for the evening (although we can just mingle in the regular part of the bar if the place isn't crowded that night). Should be a good time.
And as noted yesterday, hand-drawn membership cards will be available. If you missed the scoop on that, look here. Two additional notes on that, however:
1) Several readers have pointed out that it would be cruel to do a membership promotion in Washington State and not allow U. of Washington-themed cards (which would be purple-inclusive and therefore run afoul of our usual chromatic policy). I agree. So the purple ban will be lifted on April 8, but only for people signing up at the party, and only for U. of Washington-themed cards.
2) If you're planning to have Scott hand-draw a card for you at the party, you'd better bring really good photo reference for him. Just bring a printout of a rear-view photo of the jersey design you want, okay? Okay.
+ + + + +
Uni Watch News Ticker: The Yankees and Red Sox will wear Newtown memorial ribbons on Opening Day, and Bud Selig has asked the other 28 MLB teams to do so as well. No visuals yet. … Congressional legislation has been introduced to strip the Redskins of their trademark protection (from Patrick O'Neill). … Jordany Valdespin of the Mets, who had said he'd start wearing a cup after being plunked in the nuts by a Justin Verlander fastball, is now backing off of that plan, at least according the last section of this article. "¦ Old Dominion is experimenting with some football helmet prototypes (from Jonathan Leib). … Here's the latest story on England's soccer change-over from Umbro to Nike (from George Chilvers). … "My favorite English team, Barnet, which plays three divisions below the bright lights of the Premier League, will wear a one-off uniform to commemorate its final match at the 106-year-old Underhill," says Yusuke Toyoda. "As far as I know, this is the first time a team will be wearing an image of the very grounds it's playing on." … What's the best way to ruin a nice pair of stirrups? Guess (from Brice Wallace). … Danny Garrison's latest set of NFL/soccer crossover concepts is for the AFC West. … No question, "smegma" for the win. … This is so cool: DIY Pantone Easter eggs (from Coleman Mullins). … Those White House petitions are way overplayed now (let's secede, let's make John Darnielle the poet laureate, blah-blah-blah), but here's one that's pretty smart: a petition to make legislators wear the logos of their corporate donors (from Maks Skuz). … More NCAA court coverage, this time a call to scrap the boring, standardized designs (from Britton Thomas). … New uniforms For the San Antonio Missions (from Bryan Spangenberg). … Recommended reading for Tiki Barber: Good story on the development of the Packers' logo (from Don Schauf). "¦ Two things about this shot of the 1940-41 Wisconsin hoops team: (1) Great socks! (2) If you look closely, you'll see that most of the team has vertically arched chest lettering, but at least three players — dead center, top left, and top right — have radially arched lettering. Tsk-tsk (from David Weber).