As most of you probably know by now, I'm not a video gamer. I have nothing against gaming, mind you, but it's never been my thing. Even back when video games only existed in the coin-op arcade realm (Pac-Man, Asteroids, Frogger, etc.), I was always more of a pinball guy than a video game guy.
I'm also not a huge Twitter user, at least compared to some people.
All of which makes the following announcement so amusing, at least to me: Starting with the next edition of EA Sports's popular Madden NFL game, due out later this year, I will be part of the game's faux Twitter feed.
For those of you who have no idea what I'm talking about (a contingent that very nearly includes myself), Madden's interface includes a faux Twitter feed that appears as a separate window within the game, like this (click to enlarge):
The faux tweeters are mostly sportscasters, sportswriters, athletes, and other sports-related "celebrities." It's important to put that word in quotes, since the "celebrities" will now include me.
You probably have some questions. Allow me to anticipate some of them:
How did this happen? Like, did the Madden people contact you out of the blue, or did someone hook you up with them, or what?
One of the higher-ups from EA Sports, who says he's a big Uni Watch fan, got in touch with me about 10 days ago and invited me to participate. It sounded like fun, so I said yes.
Will this just be a one-time thing? A long-term thing?
My contract is for two years, meaning the 2013 and '14 editions of the game.
Will your tweets be about uniforms?
Yes.
Have you already written your tweets?
Apparently the staff at EA Sports writes most of the faux tweets (although the celeb tweeters get to review them, sign off on them, etc.). That made me a little uncomfy — I wasn't sure I wanted someone else putting words in my mouth, even if it was only faux Twitter words in my faux mouth — so I asked if I could have a more active role in the writing of my tweets. They said that would be fine. None of this work has taken place yet, though.
Will there me a little mug shot of you, like in the screen shot you posted above?
I think so, yes, although they haven't yet asked me for a photo.
Do you have any inside info about the next edition of the game?
Yes, actually, but I'm not allowed to talk about it. Which is just as well, because I don't even fully understand it.
Are you being paid for this?
Yes. It's not a lot of money, although it's some nice pocket change. Interestingly, all the faux tweeters are paid the same flat rate, regardless of how famous they are relative to one another (or at least that's what I've been told). Or to put it another way, this is probably the only time I'll ever have salary parity with Skip Bayless.
Have you ever played Madden, even once?
Nope.
Taking money for the use your name and image constitutes a de facto endorsement of the product. How can you endorse something you haven't even experienced first-hand?
That's a fair question, and one that I thought about quite a bit before agreeing to go ahead with this.
Although I've never played Madden, I have a general sense of it, thanks to all the screen shots and YouTube clips I've seen relating to assorted uniform issues over the years. Plus I see all the commercials for it during NFL games, just like you do. Obviously, that isn't the same as actually playing the game, but it's not like it's a completely foreign entity to me. Also, the game seems to have a fairly positive rep among gamers. Ultimately, I didn't think my relative ignorance of the game should disqualify me from participating in it.
In any case, I'm not sure my participation constitutes an "endorsement." I've written for many, many magazines and media outlets over the years, and that doesn't mean I necessarily endorse everything they do. (If they're inviting me to be part of the game, maybe they're the ones endorsing me!) My work is generally built more on relationships with specific people than with organizations, and so far I've been very impressed with all the EA Sports people I've dealt with. So I feel good about this project.
I know lots of you play Madden — let's hear from you folks. Any thoughts about my involvement?
+ + + + +
F1 Update, continued
This will be the final segment of Carlos ad Omar Jalife's F1 season preview. We had to leave out a couple of the teams due to logistical problems, but they've still provided a strong overview of the upcoming season, which begins this Sunday. Hope you've enjoyed their work.
By Carlos and Omar Jalife
Sauber F1 Team
The Livery: The major change can be seen right away with the team going from a white/navy blue color scheme to graphite gray with small hints of white and red. It is not a normal team color, but it makes the team stand out from others on the grid. One thing that also stands out is how Sauber has managed to get his sponsors to adopt white instead of having three shades of blue like last year. It can be seen on the side of the front wing, on the side of the cockpit, and on top of the engine cover (that sponsor used to be red).
Aside from that, there aren't many changes, though this is the first complete season that the team will be having the Chelsea FC logo on its cars, as last season's sponsorship started after the fifth race. The Chelsea sponsorship also appears in white, instead of their usual blue.
Vanity panel: Sauber won't be using one.
Fire suit: The drivers' uniforms have gone from really boring to exciting. Instead of being just white with a big blue block on the chest and a tiny red line, the predominant color is now graphite gray with half the chest still white, but having two "fangs" descending to the knees. We can also see some gray on the shoulders and the neck, and the shoes are now black. You may have also noticed how the team's name on the left leg has disappeared completely.
Helmets: Nico Hulkenberg has gone from orange to red. On the other side, Gutierrez has tinkered with his blue-to-yellow ratio (here's the old version) and added a big Mexican flag on the back.
Carlos's Verdict: Great color and design change. A+
Omar: Wow! A+
Scuderia Toro Rosso
The Livery: As incredible as it may sound, Toro Rosso made virtually no changes at all from last year, so we'll focus on a couple of details. The red bull you see (toro rosso is Italian for red bull) is painted by artist Jos Pirkner, which explains why it doesn't match to the brand's logo. The numbers on the side wing have lost their golden circle, in order to make the numbers slightly bigger and easier to see. AThe nose's red and golden lines (just above the suspension) that could be seen on the STR7 are nowhere to be found on this year's car.
Vanity panel: Just like the other Italian F1 team (Ferrari), Toro Rosso has opted for the beauty panel.
Fire suit: The team got rid of the bull silhouettes on the shins of the drivers from last year and expanded the red and gold lines that went on the side to cover the leg area. The gold color on the inside of the sleeves is now gone (now it's all blue), but the shoulders now have gold motifs to restore the color balance.
Helmets: The Australian Daniel Ricciardo has made no changes to his helmet, but expect special editions for his home Grand Prix. Jean Eric Vergne, from France, was also happy with his helmet and has made no changes from last year.
Carlos's Verdict: A little bit boring and more generic every year. C
Omar: Looks good as it always has. A
Sahara Force India
The Livery: The VJM06 remains as the only team to use a green/white/orange combination in history of Formula 1. The car itself has no major color scheme changes, but on the rear wing we can see how the colors were nearly eliminated (here's last year's wing) in favor of having their sponsor in a bigger type size. Shameful. For those thinking that the lower-area sponsor doesn't appear in this year's wing, think again, as it was moved to a more visible place: just above the driver's head. Double shame. Probably there isn't a major change due to the one that happened from 2011 to 2012, but the sponsor's lettering in the sidepod has lost its curviness and now is just angled, but straight. It has also been pushed to the front, as the black area of the exhausts now starts a lot earlier than in last year's design. Finally, the nose is more orange due to the team dropping one of the sponsors from that area. Sure looks nice that way.
Vanity panel: The team will be using the panel in order to hide the platypus nose.
Fire suit: It's easy to spot the one and only big difference between last year's and this year's: The big orange belly is gone and has been replaced by two subtle motifs. Does anyone else think these look like crab claws, just as if a crab were hugging the driver from behind?
Helmets: We saw that Paul di Resta changed the back of his helmet to incorporate the Scottish flag and has gotten rid of the yellow parts in order to use more blue. Not a bad move, but the design looks almost the same as the one he used for most of last season (not counting the special design he donned for the British Grand Prix). The other driver is Adrian Sutil, who has dropped the German flag colors in favor of the team colors. The new helmet blends in nicely with the car but has lost something.
Minor changes, but still an upgrade. B+
Omar's Verdict: They are carefully creating their team identity with success and a nice color scheme. A-
+ + + + +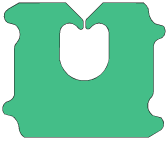 Clip job: Remember my recent-ish ode to the bread clip? I've now written a more formal piece about the clip vs. the twist-tie for Business Week. Enjoy.
ESPN reminder: In case you missed it yesterday, my latest ESPN column features features the results of our "Redesign the Dolphins" challenge.
+ + + + +
Uni Watch News Ticker: Big, big congrats to Uni Watch webmaster John Ekdahl, whose wife, Amy, gave birth to their first child, Quinn Ekdahl, on Monday. Mother and daughter are doing fine, but I'm not sure about John. Welcome to fatherhood, buddy! "¦ "I almost want to give back my U. of Cincinnati degree," says Brinke. Why? Guess. … Nobody's said anything yet about giving back their Notre Dame degree, but it wouldn't surprise me, based on what they wore last night. Woof! Additional pics here. "¦ Danny Garrison's latest round of football teams reimagined as soccer teams is for the NFC South. "¦ A few days ago I ran that story about Indiana fans being forced to wear Michigan-colored shirts for a game at Ann Arbor. Now Jason Rosko has found visual confirmation — check out the guy in the top row, third from left. "¦ Reprinted from yesterday's comments: Adidas has put together a pretty cool online archive of old footwear, jackets, balls, and other gear. If you can get past the utterly ridiculous introductory video, there's some good exploring to be done here. … "I came across this yellow Brewers souvenir helmet at a store in Grand Rapids," says David Murray. "I don't think the Brew Crew has ever had a yellow helmet. In fact, other than the A's in the 1960s, I don't know of any MLB team that's worn yellow helmets. Usually these souvenir versions are similar to the ones worn by the team, so this was an odd discovery." … Unusual NOB spotted at Nats camp. Also, note the logo creep on the helmet (from Alan Borock). … "Thought you might enjoy this portrait of my uncle, cousins, and me wearing various combinations of our Watertown Pirates uniforms back in 1985," says Brian Noel. "Watertown was a single-A Pirates affiliate that played in the NY-Penn League. My uncle (Woody Hunt, now head coach at Cumberland University) was the team's manager for the 1985 season and a Pittsburgh Pirates scout." … Jordany Valdespin, having been plunked in the nuts, says he will now wear a cup. … Lots of really sensational 1950s sportswear ads here (from Sean Clancy). … "New Springbok jersey coming out April 12 for the South African National Team," reports Daniel McLaughlin. "Seems they're finally slowly starting to realize down here what U.S. and European sports have known for a few years, namely that you can release a new jersey every season and people will still buy it." How wonderful. … Ronaldo, a Nike-sponsored athlete who's also the best soccer player in the world, may be moving from Real Madrid to Man U (a Nike-outfitted team), and Dustin Franklin isn't happy about it: "Apparently part of Nike's current contract negotiations with Manchester United involves Nike funding United's acquisition of Ronaldo. Another aspect of this is that General Motors is becoming United's primary sponsor next season. Apparently, part of those negotiations also involve GM paying part of Ronaldo's salary if he returns to United. Obviously, every shoe company has a vested interest in wanting its athletes to play in big markets. However, I can't recall a company so blatantly being an integral part in making sure a deal for a player goes through." Further details here and here. … New football uniforms for D3 Luther College (from Aaron Richards). … Due to an NHL goalie injury and a late-arriving back-up, a practice goalie was given $500 and a jerseyto sit on the Ducks' bench for a few minutes (from Bill Mitchell). … An unidentified Bayern Munich player was apparently covering up an offending toque logo yesterday. "Or he might simply be showing support for the Towson baseball team," says Matt Bryce. … Now that there's a new Pope, Andy McNeel has designed a rookie card for him. … If Seattle gets a new basketball arena, it might look like this (thanks, Brinke). "¦ "I am trying to envision what the Devils' jersey would look like if it used all the other NHL teams' templates," says Steven Wojtowicz. The results are a little weird, at least to my eyes, but take a look and see what you think. "¦ Matt Snyder asks a question that I have a feeling we've asked (and maybe answered) in past years, but I can't remember for sure, so here goes: "With the conference tournaments underway, I'm curious if you know how the conferences go about choosing what brand of ball to use? Is it handled by each conference? Maybe even the building the tourney is held in? I've seen three Big East games, all using the Nike ball; two Mountain West games, both with the Nike ball; and the SEC just tipped with the Wilson ball." Anyone know more about this? "¦ Jon Silber spotted two different boys' rugby teams wearing barber pole socks. Although the socks look twisted, they were actually designed to look that way. "¦ I'm not sure what the Louisiana-Lafayette tennis team was wearing yesterday, and I'm not sure I want to know either (from Daniel Fontenot). … Looks like David Wright may soon be named captain of the Mets. No indication yet as to whether he'll wear a "C." My hunch is that the organization would be in favor of the letter, while Wright himself would be opposed to it. We shall see (or "C").