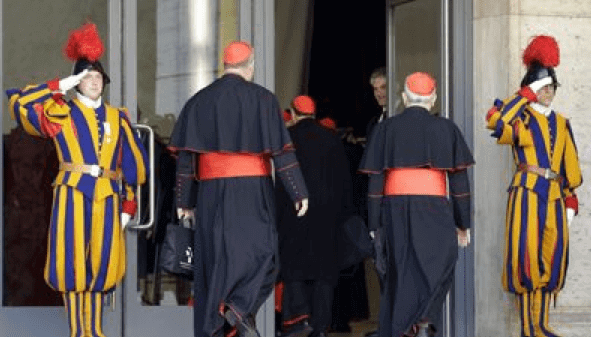 Yesterday I came across a news story about Catholic Cardinals arriving in Rome to select the next Pope. It was accompanied by the photo you see above. Naturally, I loved the striped uniforms being worn by the two saluting gentlemen. According to the caption, they were "Vatican Swiss guards." I googled that term and was rewarded with a bonanza of stripeage. This may all be old news to those of you who follow the Vatican, but it was new to me — I wanted to know more.
As I quickly learned via assorted items on the web (a good place to start is here), the Vatican's corps of Swiss guards was founded in 1506 by Pope Giulio II. The guards are all Catholic Swiss males between 19 and 30 who have completed their mandatory Swiss military service. Their striped uniforms date back to the early 1900s. (There's some very dense info on their earlier uniforms here.)
You can see a guardsman being fitted for his uniform here. From a distance, the uniform looks like striped fabric. Upon closer inspection, however, you can see that the shirt and pants are actually comprised of individual strips of colored fabric. That's pretty fascinating, although it seems like it might be awkward to get around in.
The guardsmen normally wear black berets, but they switch to red-plumed helmets for special occasions, like Pope Benedict's recent retirement.
I'm sure many of you know much, much more about the Swiss Guards than I've presented here. Feel free to enlighten us in the comments.
+ + + + +
Collector's Corner
By Brinke Guthrie
The calendar says March 5th — less than a month before the defending World Series champions return to the diamond. So let's check out a few SF Giants items, eh? First, a set of 1960s vintage Giants drinking glasses, from nearby Santa Rosa. Then, a very pricey Willie Mays bobblehead from the same period — but free shipping! And then there's a Cliff Engle Giants sweater from the 1980s.
As for non-Giants items:
• Mets fans, here's an old team-issued Mets vinyl travel bag.
• Hockey fans will love this set of five 1970s NHLPA lunchboxes.
• Speaking of hockey, the old WHA Stingers played at what was then known as Riverfront Coliseum, which opened in September of 1975. (It's still there with a different name — its fourth.) Here's a glass from that era, with "WLW Radio 7" on it.
• Very cool Atlanta Falcons jacket by DeLong.
• I didn't know 1970s WFL footballs looked like this. Orange stripes?
• Packers fans, here's a cool Adidas polo shirt with the Packers logo on the chest and "NFL Alumni" on the sleeve.
• This seller has several 1960s NFL David Boss paintings up for auction.
• Gotta love this sensational 1960s United Airlines MLB cap poster.
• And we wrap this week with a submission from, yes, Michael Clary, who sent in a pair of 1940s molded plastic football players, here and here. (And here's a PS from Michael regarding the shout-out I gave him last week: "Thanks for the little blurb in the last Collector's Corner. I'm guessing people think I probably live in my parents' basement and deliver the morning newspapers. It made my day.")
Seen something on eBay or Etsy that you think would make good Collector's Corner fodder? Send your submissions here.
+ + + + +
OMFG reminder: In case you missed it yesterday, my latest "One-Man Focus Group" column is about U.S. coin designs.
+ + + + +
Uni Watch News Ticker: New logos and uniforms throughout the entire athletics program for Oregon State. That new logo is weak — not quite cartoonish enough, not quite photo-realistic enough. By trying to have it both ways, they end up having it neither way. But I confess that I like the way the multi-colored football facemask simulates a beaver's buck teeth. "¦ A Montana State track and field athlete has leaked what appears to be the school's new logo. "¦ A Cal football helmet got a huge hole in the cranium area during practice (from Kyle Mackie). "¦ The 2014 World Cup will feature special seating for obese fans (thanks, Phil). "¦ According to this article about the Mets' new BP caps, MLB teams "are allowed to wear the [BP] caps for regular-season games, though the Mets declined to say whether they would." The article also has lots of info about the BP cap program as a whole — recommended reading. "¦ Two of my worlds colliding: Several universities are now offering team-branded meat. "¦ Fun submission from Max Crofts, who writes: "A restaurant in Thailand called Cabbages and Condoms promotes sex education and has a Tiger Woods mannequin with a Nike shirt and hat made of condoms." … The North Face logo has been showing up a lot on 60 Minutes, but CBS says it's just a coincidence, not product placement. … There have been complaints about some of the rocks at the Canadian men's curling championships (from Roch Smith). … A source who claims that his wife works for Under Armour says that UA will soon be making a major announcement about becoming the primary apparel supplier for the U.S. Olympic team. I checked with an Under Armour spokesperson, who said, "We don't comment on rumors or speculation." That's the right thing to say in any case, of course. … Here's a funny story involving former Laker Mark Landsberger, his road jersey, and a chocolate milkshake (from Matt Beahan). … Swell-looking striped stirrups being worn this year by Appalachian State (from Jeff Mendenhall). … New logo for the Livestrong Foundation. … In a related item, Team Canada's women's hockey team is defending its decision to wear Livestrong colors (from Will Leslie). "¦ Good piece on how to break in a big league glove (from Sean Clancy). "¦ Also from Sean: Lots of really cool bicycle head badges in this gallery from the North American Handmade Bicycle Show. (In case you don't recall, I wrote my own fun piece about head badges a little over a year ago.) "¦ Mariners prospect Brad Miller is old-school — no batting gloves, no wristbands, high cuffs (from Keith Chaiet). "¦ "I was at a spring training game and Anthony Rizzo of the Cubs was just about to go to bat," says Kyle Campbell. "The 'C' on his batting helmet was askew and on the brim, so the bench coach called him over and readjusted his logo just before he went to bat." "¦ Not uni-related, but this is really great: an article and video report on a company that makes tags and labels (big thanks to Gretchen Mittelstaedt. "¦ If you've ever wondered what Spongebob would look like in a hockey uniform, you'll love this Islanders ad (from Aaron Scholder). "¦ Oh baby, check out the stirrup stylings of Dodgers prospect Zach Lee. "He's worn his stirrups that way in the minors for some time," says Ross Yoshida. "Hopefully he'll keep the look if and when he makes it to the bigs." "¦ Speaking of stirrups, look at this great 1978 family portrait of Louis Gaunch's family. "From left to right, that's my sister Angie in her t-ball uni; me in my Redlegs Little League uni; my mother Marilyn in her church softball uni; and my father Ed (who had a sip with the Pirates in mid-'60s) in his softball uni," says Louis. "¦ Did you know there was once a set of baseball cards featuring players and their dogs? Most not have been MLB-licensed, since the uniform logos were airbrushed out (from Mark Kaplowitz). "¦ Remember how Ilya Bryzgalov repainted Yoda on his mask? Turns out he did that at Lucasfilms's request (from John Sheehan). "¦ Football teams routinely use different-colored practice jerseys for QBs, but Texas appears to be adding a center helmet stripe. Never seen that before (from Andrew Matthews). "¦ The Blackhawks will wear jerseys with Marian Hossa's No. 81 and his NOB during pre-game warmups for tonight's game against the Wild. "It's in honor of Hossa having played his 1000th game on Sunday," explains Terry Mark. "¦ "While sifting through some game-used NHL jersey porn the other day, I came across a delightful quirk on an old Roberto Luongo Florida Panthers jersey," says Charles Noerenberg. "The jersey is from the 2002-03 season, and its hem had been lengthened by sewing another hem onto the bottom of it, creating a double-NHL shield effect. I've never seen anything like this before. I did some quick photo research and was able to find images of Luongo wearing jerseys with the same double-logo effect for at least three seasons in Florida, as you can see in these shots from 2001-02, 2002-03, and 2003-04. It appears that he did not sport a double shield his rookie year for the Islanders in 1999-2000, nor did he during his first few pre-Edge seasons in Vancouver." "¦ Also from Charles: "Driving on the West side of Chicago the last week, I passed a Chicago Streets and Sanitation building and immediately pulled over once I saw what was parked in their lot: three awesome customized street sweepers — one each for the Blackhawks (here's another view), White Sox, and Cubs (not pictured, sorry)." "¦ Some U. of Illinois students are trying to bring back Chief Illiniwek. "¦ Here's another look at those awesome Vancouver Millionaires throwbacks that the Canucks will be wearing in a few weeks. "¦ Everyone knows you can't online-order a jersey with an NOB of "Go to Hell" or anything else considered offensive. But get this: If you go to the Reds' online shop, you can't order a No. 14 jersey with "Rose" as the NOB. "Very interesting that Rose's ban extends even to this," says Alex Bernhard. "¦ Daniel McLaughlin says he's "on a one-man mission to get South African rugby more prominently featured on Uni Watch." With that in mind, he sent along the five South African Super Rugby teams: the Cheetahs ("No change from their 2012 Puma unis," says Daniel, "but it's worth noting that their logo is a bit Jaguars-esque"), the Sharks ("Slight change from last year"), the Bulls ("No change to their blue homes or away pinks, but they also have a new 75th-anniversary kit, which they'll wear against the Cheetahs"), the Southern Kings ("a dump of a uni that's as boring and dreadful as the team is"), and the Stormers ("as part of Western Province Rugby Union, they've tried to keep their kit similar to that of the famous blue and white hoops of Western Province Rugby"). "¦ For all you Seattle-area readers: Scott M.X. Turner's band, RebelMart, will be playing this Thursday, 8pm, at the High Dive. You know what to do.