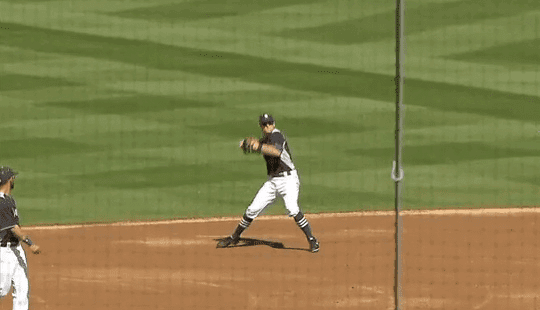 The player shown above is Brendan Ryan of the Mariners, from a recent Cactus League game. As you can see, he's wearing striped stirrups, which you can also see in this shot. Ryan, of course, used to wear striped stirrups back when he was with the Cardinals. His two seasons in Seattle have been a mixed bag of high and low cuffery, with the high-cuffed look usually featuring stirrups. But this is the first time he's worn striped stirrups during his time in Seattle.
And with good reason: Striped stirrups aren't part of the Mariners' uniform set. So why is Ryan wearing them? Presumably because he likes them and either procured a set on his own or else convinced the M's equipment manager to get a set for him.
Naturally, I approve of the look. But I also think it's a little messed up that a lone player can start wearing striped hose on his own. When Ryan was in St. Louis, that was different — the striped stirrups are a longstanding option in the Cards' wardrobe. (It would be nice if they were mandatory instead of optional, but that's a different argument.) The same would be true if Ryan were playing for the Rays, or even for the Giants, where striped socks have become an established uni option. But that's not the case with the Mariners, at least not yet — nobody else is wearing the striped hose except Ryan.
What this really points to is the continuing transition of baseball hose from the realm of uniforms to the realm of equipment. The uniform is something you have to wear; equipment is player-optional gear that you can style pretty much however you want. And the more acceptable it becomes for socks to be treated like equipment, the less chance we have of ever seeing them returned to their rightful place as an essential uniform component. So while Ryan's nifty striped legwear represents a small victory in the battle, it's really a setback in the larger war.
(My thanks to Patrick Fleming and Darin Nelson for the Brendan Ryan photos.)
+ + + + +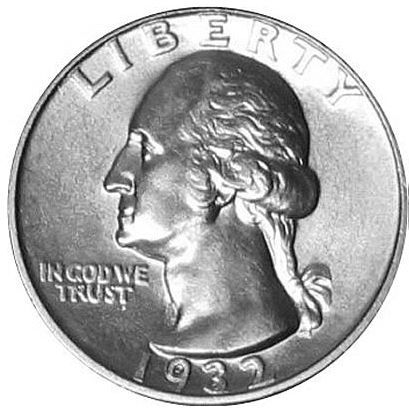 OMFG: My latest "One-Man Focus Group" column is about U.S. coin designs. Enjoy.
+ + + + +
Uni Watch News Ticker: Lebron James wore yellow sneakers in the first half of yesterday's Heat/Knicks game, and gray in the second half. Further info here. "¦ I checked out some Golden Gloves action on Saturday night. It was pretty perfect: Nine bouts, all in the 152-pound class, in the basement gymnasium of a Catholic church in Brooklyn. I neglected to take photos, but the edge of the ring apron had a series of sponsors' placards: One for Applebee's, one for State Farm Insurance, one that I forget, and — my favorite by far — one for a local pest control company. Major bummer: Eighteen fighters, and only one wore striped socks. "¦ Here's an article about the Padres' old Taco Bell caps (from Andrew Domingo). … Wigan Athletic midfielder James McArthur has been wearing a protective mask lately (from Rocky Lum). … USA Gymnastics will now be outfitted by Under Armour. … Slate's sports podcast recently discussed the Warriors' sleeved jerseys. I haven't yet listened to the podcast, but I'm told that they mention me and my work a fair amount (from Daniel Fletcher). … If you go to this link and then drag the page to the right, you'll see a good shot of the Reds' subscript NOBs (from Jerry Wolper). … New St. Paddy's Day warm-up jerseys for the Sharks. "Not gonna lie, I kinda like 'em!" says Sean Robbins). … Meanwhile, Notre Dame hockey wore green for Senior Night. Here's some video footage (from Warren Junium and Anthony Nuccio). … Robert Morris and Marshall went color-on-color on the softball field the other day (from Steve Santillo). … Latest team to go pink: the Toledo Walleye (from Gregory Dewulf). … Holy moly, check out all the stripes for Hofstra baseball. Not sure if that's a throwback, a one-off alt, or what (from A.J. Frey). … Raiders RB Mike Goodson posted this photo of a black Raiders helmet to Instagram the other day (from Ryan Dunsmore). … Good piece on baseball gloves. Buried in the middle of it is this passage: "Before [Pat] Neshek even got to the minor leagues, he used a glove produced by an obscure company, Katz, out of Meriden, Conn. — and he still uses it. 'Goes back to around 2004,' he said. 'After my first good year in the minors, Mizuno wanted to sponsor me. I told 'em to just stick their logo patch on there, and they did. But then I had Tommy John surgery in '08, and they dropped me. So much for their logo. Back to Katz'" (thanks, Brinke). "¦ Thanks to the NCAA's new rule mandating that a football team's jersey and/or pants not match the color of the playing field, Marshall will no longer be able to wear solid green (from Brice Wallace). "¦ The Allen Americans (CHL) wore McDonald's-themed uniforms last Friday (from Robert Eden). "¦ No photo, but an interesting note from Josh Miller, who's the P.A. announcer for the Giants in Scottsdale: "Cole Gillespe, a mostly career minor leaguer who signed with the Giants in the off-season, is wearing No. 2 in camp, and there's an orange '2' decal above his name on the back of his batting helmet. No other player has such a decal. I looked through binoculars from my booth, and it appears that the decal is round, and the '2' is in the style of the Giants numbers on their uniforms. It looks like a Pro Helmet Decals bat knob sticker, but I have not been in the clubhouse so I don't know for sure." "¦ The Chicago Mustangs, a semi-pro football team, have managed to rip off the Broncos and the Oregon Ducks simultaneously (from Rich Aleman). "¦ Douglas Ford was watching the 1977 Ohio State/Michigan game and noticed a Michigan player who wore No. 99 on defense and No. 51 on special teams. You can see him pulling off one jersey to reveal the other one here. "¦ White Sox VP of communications Scott Reifert wrote a little piece about how Jake Peavy forgot to bring his jersey to yesterday's Padres/Chisox game and briefly had to wear a No. 54 jersey with an NOB fashioned out of white athletic tape (from Clint Wrede). "¦ Mike Raymer recently took a tour of Busch Stadium and was pleased to see a row of plaques showing all the cardinals to have appeared on the Cards' jerseys. "At one point the guide mentioned that the latest uniform finally has the cardinal 'ornithologically correct' (he really used those words)," says Mike. "I didn't have the heart to tell him about the yellow beak." "¦ "I was looking around eBay and found this guy who sells old retro NFL helmet decals," says Clint Richardson. "Some of these look amazing, some look flat-out crazy. But check out this one, which looks like an alternate Houstan Texans logo — it looks great!" "¦ We all know that Hillerich & Bradsby make Louisville Sluggers. But it turns out they also used to make police batons, complete with their familiar logo. No "Powerized" stamp, though (from Michael Clary). "¦ Bob Cooke is a little obsessed with the Uni Watch Membership Program. "I wondered which uni number is most popular and whether all the numbers have been used at least once," he says. "So I input all the numbers shown on the cards in the card gallery and sorted and totalled them. ( I am an accountant so I'm pretty fast on the keypad). I found that the only the number between 0 and 99 that has not been used at least once is 95. No doubt someone will decide on that one before too long. The top five most popular are 17 (47 times), 13 (45 times) 8 (44 times), 3 (43 times), and 9 (43 times)."