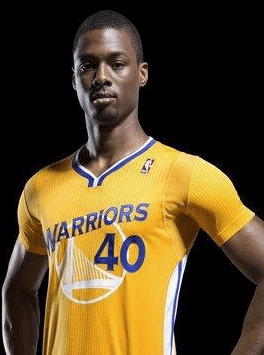 As you can see at right, Golden State made a bit of NBA history yesterday, as the team unveiled a new alternate jersey with sleeves. Due to make its on-court debut on Feb. 22, it's believed to be the first sleeved jersey ever worn in the NBA. (There's additional info here, lots more photos here, and photos from the unveiling here.)
As we've discussed here many times, sleeves used to be somewhat common — or at least not unheard of — in college basketball, especially at Evansville. To my knowledge, however, sleeves have never been worn in the NBA. The Sheboygan Red Skins wore sleeved jerseys in 1940-41, but that was before the NBA existed. (The Skins would later become charter members of the NBA in 1949, but they were no longer wearing sleeves by that point.) The Celtics also wore sleeves in 1946-47, but again, that was pre-NBA. The closest the NBA has come to a sleeved look since then was when league briefly considered letting players wear long-sleeved undershirts for an outdoor preseason game a few years ago. In the end, nothing came of it.
I've always been intrigued by sleeved basketball jerseys and I really like this one (which isn't so surprising, since I've liked most of Golden State's design moves in recent years). Can't say I'm so nuts about the jersey being paired with pinstriped shorts, and the two shades of yellow seem badly mismatched, but whaddaya gonna do. I'm more interested in the jersey and its implications for basketball jersey design.
Last night I participated in an Adidas/NBA conference call regarding this new uni. Here's a rough summary (not a direct transcript) of some of the questions I asked and the answers I received:
Q: Will other NBA teams be getting sleeved jerseys?
A: Other teams have been in discussions to wear the sleeves, and it's likely that some of them will eventually end up going that route, but not this season. Golden State is the only team that will wear the sleeves in 2012-13 season.
Q: Marc Spears from Yahoo Sports tweeted yesterday that several Adidas-outfitted schools will be wearing sleeves this season. Is that true?
A: Spears's list isn't 100% accurate, but it's true that some Adidas schools will be wearing sleeves this season, yes.
Q: Why pair pinstriped shorts with a non-pinstriped jersey?
A: There were some aesthetic reasons for this (the pinstripes supposedly evoke the cables on the Bay Bridge, blah-blah-blah), but I'm pretty sure the bottom line is that Adidas is using a new woven fabric for the shorts, and they wanted to show off how stripes look when rendered in that fabric.
Q: Why doesn't the yellow on the jersey match the yellow on the shorts?
A: Actually, I didn't ask this, because I didn't see a photo showing the mismatch until after the conference call. Dang.
Q: A sleeve would be a good place to put an advertising patch, no?
A: Funny you should ask, because there was word yesterday that the league's plan to add corporate advertising patches is back on the front burner, with the ad patches slated to debut in the 2014-15 season. That isn't particularly big news, because we've known all along that they would probably push to revive the ad plan once Adam Silver had replaced David Stern as commish.
Anyway: NBA exec Sal LaRocca, who's quoted in that story, was on the conference call, and he said that interview actually took place last month (i.e., it's not breaking news) and that the sleeved jerseys have been in the works since 2011 (i.e., they're not introducing sleeves just as a way to create a space for ad patches). While it's tempting to think that the sleeves are really just ad billboards waiting to happen, I suspect the ad patches will all end up on the chest, not the sleeves, because they'll want the ads to be facing the camera during close-up shots at the free throw line. A free throw will now be the money shot.
Of course, the best way to keep ads off the sleeves is to keep them off the uniforms altogether. Time to regather our energy on that front, people. #NoUniAds
+ + + + +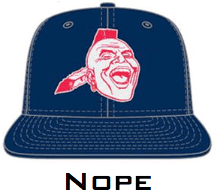 The other big news from yesterday is that the Braves have decided not to wear the Indian head BP cap after all. How about that.
That article mentions that the Indian logo "was one of five proposed designs" and that "a [final] decision on the design had not been made before the potential hats were leaked [in this ESPN column]." In other words, the Braves are claiming that they were never fully committed to the Indian design.
That's bullshit. The Indian cap design has been in the MLB Style Guide for months (and is still there right now). It's also shown in the new New Era catalog. I suppose all those other teams' cap designs in the catalog weren't finalized either, eh? Let's see how many of them end up being different than the ones shown in the catalog. I'm fairly certain the Braves will be the only ones who pull a switcheroo.
I'm not surprised that Braves management is telling tall tales in an attempt to save face, since they've taken a beating in the media on this one (not so much from me, but from all the other media outlets that weighed in once I revealed the Indian cap design). Still, it would be nice if they'd had the integrity to say, "We messed up, we've listened, and now we're making things right." Maybe one day.
Meanwhile, the most interesting coverage of yesterday's news came from the Atlanta Journal-Constitution. All I'll say is that if you start reading it, make sure you read it all the way to the end. (Thanks to reader Tom Abernathy for pointing me toward the AJC piece.)
+ + + + +
Collector's Corner
By Brinke Guthrie
Leading off this week with yet another of the popular 1970s NHL poster, this time with the Los Angeles Kings. That's the only new NHL one I found, but here's a nice-looking Chargers poster from the same period, and one for the Celtics.
But there's more to life than posters. For example:
• Tremendous cover artwork in this 1969 NFL Appointment Book.
• This eBay seller has quite a few "NFL Fan Kits" for sale. Worth checking out!
• This auction has it all. TB Bucco Bruce helmet WITH the old-school single-bar facemask. And this Cowboys Staubach-era helmet also has the Dymo label- though this one is not game worn. More helmets from the same seller here.
• If you're a fan of the 1970s Steel Curtain Stillers, you'll like this bobblehead set.
• Cincy Powell wore this jersey for the Dallas Chaparrals before he moved on to the Colonels.
• GO with the Giants with this 1960s New York Football Giants megaphone. We've also got some great 1960 Shell Oil Giants prints.
• This auction is for a 1960s player-worn Chicago Bears varsity-style sideline jacket.
• Gotta love this 1950s Brooklyn Dodgers kids tee!
• And from reader Mike Clary, look how big these Marx NFL football game players are. They'd crush those little Tudor guys!
Seen something on eBay or Etsy that you think would make good Collector's Corner fodder? Send your submissions here.
+ + + + +
T-shirt reminder: In case you missed it two weeks ago, a bunch of new (but sort of old) Uni Watch T-shirts, including the one shown at right, are now available. For details, look here.
OMFG: My latest "One-Man Focus Group" column is about a TD Ameritrade commercial with a surprising soundtrack.
+ + + + +
Uni Watch News Ticker: I have confirmed via New Era that the Blue Jays' BP cap is the only one with a team logo on the back. All the others will simply have the MLB logo. … Meanwhile, here's New Era's official press release on the BP caps. … Speaking of MLB headwear, there had been talk about a new line of padded caps for pitchers, but that's now looking unlikely, at least for 2013. … The Smithsonian is hosting a seminar on sports memorabilia (from William Yurasko). … Whatever else you may think about Pope Benedict and his impending retirement, I'm pretty sure he'll go down as the first Pope to wear a baseball cap. … New uni number assignments for the Cubs (from Benjamin Gordon). … The Chris Canty-style facemask is apparently coming to lacrosse (from Connor Wilson). … A dozen MLS teams will unveil their new kits during the last few days of this month. "How convenient that we can pre-order before we even know what the kits look like!" notes Markus Kamp. … A little birdie tells me that the new Arizona football uniforms will be revealed around the time of the Spring Game on April 13. … A new Oregon State logo has leaked, although I don't know how legit it is. … Mets catching prospect Travis d'Arnaud, acquired in the R.A. Dickey trade, has an interesting NOB. Looks like they used an upside-down "P" for the first letter, eh? (From Nick Schiavo.) … Awesome striped stirrups for Florida softball (from Hunter Gold). … This is sort of bizarre: Vancouver Canucks jersey chairs (from Jay Sullivan). … ESPN's 30 for 30 series is currently shooting a film about Marquette basketball. Working title: Untucked (from Jeff Ash). … Here's a good shot of the Hockey City Classic patch on the Wisconsin jersey (Jay Sullivan again). … The D-League's Iowa Energy wore Nuggets uniforms the other night (from Mitch Barbee). … Coleman Mullins is the latest reader to don a black leg band in memory of Mike Hersh. … "This is the NBA laundry hamper I had as a kid," says Keith Winney. "The net extends downward and ties at the bottom, so you 'shoot' your dirty laundry in the hoop. It's probably from 1989-1990. It started as a plain backboard and came with all the NBA team logo stickers that you could plaster on it. Nearly all of the teams' logos have been redesigned since then. Side note: In the movie Boyz n the Hood, this exact same hamper appears in Tre's room at the very end of the movie." … Here's confirmation of something I reported last week, namely that the Pirates will have a new logo in 2014. … Neglected to mention yesterday that the high school in Cooperstown, New York — where Uni Watch reader Jeff Katz is the mayor, incidentally — will no longer call its teams the Redskins. … In a related item, good riff on the 'Skins name from Deadspin. … Shame on the city government of Kansas City, which is considering selling off corporate naming rights to public property. … New baseball uniforms for Michigan (Jay Sullivan again). "¦ Here's that Chargers-themed supercross helmet in action (from Sean Clancy). "¦ This is really interesting: Los Angeles police officers have added a black strip across their badges, presumably in memory of the fallen officer recently killed by Charles Dorner. Don't think I've ever seen anything like that before (big thanks to Ian T.L. Henderson). … The company whose name is on my local basketball arena paid $400 million for that privilege, which I'm sure will be a great comfort to the nearly 4,000 people that that company just laid off. Unfuckingbelievable.