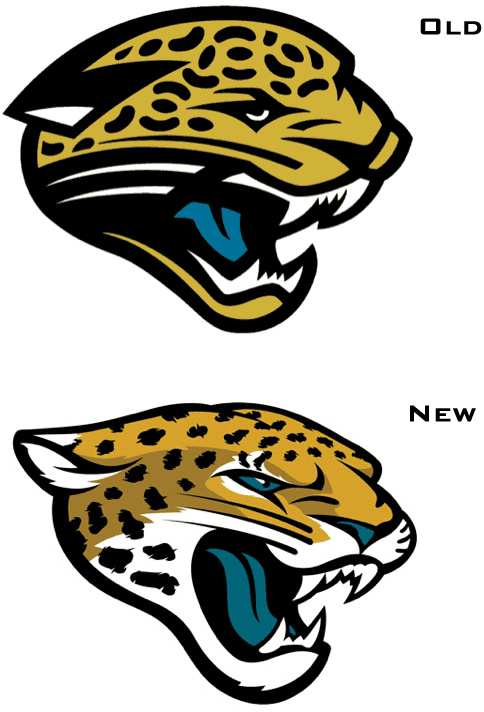 Once upon a time, the Jaguars had some of the best uniforms in the league. As I frequently stated in the early and mid-2000s, that uni had a chance to become a modern classic if they were just smart enough to leave it alone. But of course that didn't happen — they went ahead and ruined the uniforms. But at least they still had a really nice helmet with a solid logo. And now they've taken the final step in dismantling a once-solid identity by ruining the helmet logo too.
That last sentence is what I expected to be writing today. But to my very pleasant surprise, I really like the new design, which was unveiled yesterday. How much do I like it? Let me count the ways:
• I like the angle of the head.
• I like that the cat is looking more straight-ahead instead of at the viewer.
• I like the toning down of the heavy black outline.
• I like the more realistic depiction of the cat. In fact, the old one, which I always thought I liked, suddenly looks sloppy and almost amateurish by comparison.
• I like how the spots seem more like real spots on real fur, instead of just abstract squiggles.
• I like the use of white space.
About the only things I don't like are the teal nose and, especially, the teal eye. But they're not dealbreakers. (The teal tongue, oddly enough, has never bothered me, I think because I've known several chows [dogs], which have blue tongues. Yes, I realize a dog is not the same as a jaguar, and blue is not the same as teal. But somehow the dog example overrides my "teal jaguar tongue does not compute" circuit.)
Oh, and there's also a new wordmark, which is every bit as bad as the old one, but we probably won't have to see it too often, so no biggie.
Is it possible that the new uniforms, due to be unveiled at the draft, will be as good as the new helmet logo? That seems unlikely. But at least now I have a little hope.
Meanwhile: The results of my Browns-redesign contest are up today on ESPN. Enjoy.
+ + + + +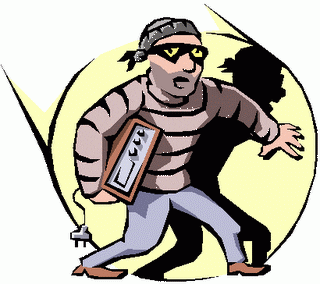 Logo theft, continued: In response to yesterday's post about logo theft, I received the following note from a reader who prefers to remain anonymous:
I confess: I am a logo thief. I spent several years on the board of my local Little League, and since I have a background in graphic design, I was frequently tasked with creating artwork for flyers, mailings, etc. The league logo that had been in use for years was the worst sort of clip-art butchery imaginable — a baseball with an awful motion swoosh and tacky typography.

When I was tasked with redesigning the logo, I decided it would be cool to include a panther, which is the mascot of our local school district. Time was short, and drawing a decent panther was beyond the reach of my atrophied skill set, especially with a tight deadline.

Fully aware of how frequently schools crib the designs of pro and college teams, I set off on a Google Images quest for an appropriate panther. I didn't want to be so obvious as to take the first panther I saw so I scrolled and scrolled past all the Carolina Panthers logos. The Florida and Pitt panthers are hideous, so I skipped them as well.

Finally, after many pages of unfamiliar panther-named teams and hideous clip-art panthers, I discovered the logo for a small university whose teams are called the Panthers. It was obscure enough and far away enough that I figured no one would notice or care, so I proceeded to pinch their panther for our logo.

As a former graphic designer, I fully understood what I was doing and where it fell on the Right/Wrong scale. In my television career, our network was known for many graphic innovations, and we frequently saw our designs "trickle down" to other networks. Rather than feel anger or disgust, I always felt sort of a condescending pride. If our designs were being pinched by other networks, that simply validated our design chops.

Our tiny Little League organization made no profit from this logo, other than the sale of a few T-shirts, and those proceeds were directly reinvested into the league. Board members work exclusively as volunteers and have never been paid a cent. Indeed, most board members wind up digging into their own pockets to provide goods and services for the betterment of the league.

So whatever guilt I feel for using another designer's work is assuaged by knowing that what I did was not for myself, but for public service. Am I rationalizing? Perhaps. Would I do it differently if I could go back? Yeah, probably. However I may be judged for this, I accept it.
+ + + + +
Uni Watch News Ticker: Last week the Canucks announced a Vancouver Millionaires patch for their third jersey. Now they've unveiled a full-on Millionaires throwback, to be worn on March 16. I totally dig it, natch. … New uniforms, including a truly horrific G.I. Joe design, for West Virginia baseball (from Jay Sullivan). … Indiana will apparently be the next school using a bleed-out design (from Ryan Mandel). "¦ A Pixar artist has done some really great NFL match-up interpretations. "¦ Here's a nice close-up of Stan the Man's zippered jersey (from Nicole Haase). … An Arizona football recruit was shown next season's uniforms and was apparently quite impressed (from Kenny Abbey Jr.). … RPI hockey wore this "freakout" jersey, whatever that means, the other day (from Tim Fogarty). … A tug-of-war at a California high school turned gruesome the other day, as several students suffered severed fingers. And if that's not a good argument for bringing the tug-of-war back to the Olympics, I don't know what is. … Some high school kid with an Auburn tattoo has committed to Alabama. … Can someone please just put some iodine in the Wilpons' coffee already? … Joakim Noah ran afoul of the NBA's uniform police because he was wearing a sweater on the bench (from Leo Thornton). … A high school in Washington State played a game in 1980s uniforms that were recently discovered in storage (from Alex Allen). … Latest effect of global climate change on the sports world: The Iditarod race has had to make some adjustments. … An obsessive English soccer fan has written a book about soccer dugouts. "It's photos of, well, dugouts," says Cort McMurray. … New lacrosse helmets for Lehigh. "Brown is a rare helmet color, often has to be custom-ordered," notes Connor Wilson. "The 'Lehigh' on the facemask bar is also pretty special." … The A's have unveiled a Coco Crisp bobblehead that's really more of a bobblebody (from Tom Mulgrew). … If you've been dying to vote on who has the best and worst hockey jerseys in a tiny D3 conference, today's your lucky day. … Once upon a time, Don Cherry wore something other than outrageous suits (from Anthony Nuccio). … Think you've seen everything? No you haven't — until now. There, now you have (screen shot by Doug Ceane). … Can you guess the Niner? (Thanks, Brinke.) … Late-breaking item from last weekend: The Sharks wore Valentine's Day-themed jerseys prior to Saturday's game against the Stars. They had another home game last night and will have another one this Saturday, so it's odd that they would wear the V-Day gear so far in advance of the holiday (from Rich Paloma). … Many readers noticed that two of the zebras working last night's Michigan/Ohio State game wore different — and differently oriented — American flag patches. I got, like, six e-mails on that one in a two-minute period. Impressive! "¦ In that same game, both teams wore fairly awful uniforms. "¦ Wish the photo was bigger, but it looks like Tennessee baseball is going with some very nice striped stirrups this season (from Chris Morgan). "¦ Here are some more photos of those crazy Illinois State throwbacks from a few days ago (from Matthew Keegan). "¦ Check this out: an auto racing helmet that mimic an Indiana football helmet! That Facebook page says it's for Kraig Kinser, but the helmet has "Steve" printed on the facemask, which may mean it's actually for Kraig's father, Steve Kinser (from Calvin Alger).
By the time most of you read this, I'll be on my way to Washington, where I'll be covering tomorrow's "Racist Stereotypes and Cultural Appropriation in American Sports" symposium at the National Museum of the American Indian. (If you're curious, there'll be a live webcast here.) I'm also looking forward to meeting many of you DC-area readers at 7:30 tonight at Hamilton's. As for everyone else, do me a favor and go easy on the Ticker submissions over the next few days — I'm gonna be pretty busy. Thanks for understanding.