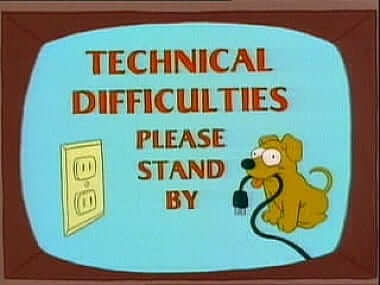 Well, that kinda sucked.
The best part of the game, clearly, was the blackout — not because it stalled the Ravens' momentum and got the 49ers back in the game (although that was nice), but because it was so entertaining to see a monkeywrench thrown into a such a scripted, calculated event. Watching the coaches and the NFL suits freak out over the delay was highly enjoyable. Imagining what the advertisers must have been thinking was even better.
Uniform-wise, it was a pretty uneventful game, but here are a few small notes:
•  As I had previously reported would be the case, the Niners wore the Sandy Hook Elementary School memorial decal. The Ravens did not.
• I believe this was the first Super Bowl in which the officials wore the black slacks.
•  At the party I was attending, people freaked out when a slow-mo replay made it very evident that Frank Gore wasn't wearing a cup. "How can a football player not wear a cup?!" everyone was saying. So I got out my phone and cued up that recent New York Times article about how most NFL players don't wear cups. A teachable moment, or something like that.
•  Speaking of Gore, he once again had some hosiery issues.
• Under Armour made these crazy shoes for Ray Lewis to wear, but he just went with basic black.
• Reader Jack Krabbe was down in New Orleans in the days leading up to the game and attended the Starter party, where he found that satin jackets are marking a comeback.
•  Reader Paul Ricciardi made this Super Bowl-themed hors d'oeuvre platter. "The Niners side is represented with sharp provolone surrounded by slices of hot soppressata, while the Ravens are done in Asiago, with slices of sweet soppressata," he says. "I carved the logos freehand, using a potato peeler. Had to modify the Niners' logo because the interlocking SF was proving to be difficult (I practiced on the other side of the wedge). All in all, not bad for my first effort." Indeed.
And that's about it. Next year's game, of course, will be played here in NYC (okay, technically speaking it'll be in New Jersey), and everyone's already freaking out about what the weather will be like. Fair enough, but I bet we can at least manage to keep the fucking lights on for the duration of the game.
+ + + + +
PermaRec update: This is so great: My friend Shane has been buying stuff at thrift stores, including paintings, for decades. Now one of his paintings — something he did for art school 30 years ago (shown at right) — has shown up in a thrift store.
DC party reminder: Remember, Uni Watch party in Washington this Wednesday, Feb. 6, 7:30pm, at Hamilton's. See you there.
+ + + + +
Uni Watch News Ticker: A little birdie tells me that the Jaguars will unveil their new logo tomorrow at 4pm. A uniform redesign, described to me as "similar to one the Seahawks underwent last year," will be revealed in mid-April. "¦ New third jersey patch, honoring the old Vancouver Millionaires, for the Canucks. "¦ Here are some good press photos of this year's NBA throwbacks. … In a related item, Robert Silverman was watching the Knicks/Bucks game on Friday night and heard something interesting: "The Knicks' play-by-play man stated that the Bucks switched from green/white to green/purple in the mid-'90s after then-coach Mike Dunleavy returned from a trip to Wimbledon, where he found the purple and green color scheme particularly fetching. Not sure if it's apocryphal, but fascinating if true." I've never heard that one before. … Louisville wore these "whiteout" uniforms on Sunday. … New logo and uniforms for the Greeneville Astros. … NOB news from Braves HQ, where both Uptons and both Johnsons will not wear first initials (from Britton Thomas). … The Ravens are named after Edgar Allen Poe's poem "The Raven." What if every NFL team name had literary roots? It might look like this (from Chris Falvey). … No more jersey sponsor for the Houston Dynamo. … The Longhorns will be wearing this basketball uniform on Feb. 16 (from Matt Motl). "¦ You probably know that Kenny Burrough wore double-zero in the NFL. But you might know he also wore it while attending Texas Southern (excellent find by Matt Mitchell). "¦ The Portland Winterhawks wore Intel-themed jerseys on Saturday. "The jerseys will be auctioned off, with half proceeds will going to local hockey programs and other half to a charity of Intel's choice," says Harvey Lee. "¦ New soccer kit for Brazil (from George Chilvers). "¦ "I was watching the hockey classic Slap Shot the other night," says Greg Netherwood "In the scene where Reggie Dunlop and the general manager (forget his name) were arguing in the GM's office, there was a pennant for the Charlestown Chiefs in the background. The pennant had a logo that looks a lot like the University of Illinois's Chief Illiniwek logo. But the Illiniwek logo didn't come out until the late '80s — more than a decade after Slap Shot." "¦ Whoa, look at these stirrups! They're from this vintage softball uniform. "¦ Max Levy sent along some uni-centric articles from the British soccer magazine When Saturday Comes. The topics: James McLean not wearing a poppy; lack of kit consistency; the use of orange soccer balls for snowy conditions; the way teams mark their championships on their jerseys; and an amusing controversy from 1963 involving training attire. "¦ Notre Dame women's hoops wore pink on Saturday (from Warren Junium). … Steven Taylor of Newcastle got bloodied during Saturday's match and had to switch to an NNOB blood jersey (from Brent Griffin). … RNOB alert. That's Fred Gulley III of the Arkansas basketball team (from Matt Snyder). … Utah State and Seattle went color-on-color Saturday night (from Matthew Garry Moon). "¦ Crazy new soccer cleats for Maryland (from Jay Sullivan). "¦ Also from Jay: Some serious ugly lacrosse uniforms for Coastal Carolina. "¦ More Japanese soccer uniforms from Jeremy Brahm, this time for Cerezo Osaka and Ventforet Kofu. "¦ Also, two Japanese baseball items from Jeremy: (1) The Orix Buffaloes and Softbank Hawks will both wear Osaka throwbacks in April — Orix as the Kintetsu Buffaloes (merged with them) and Softbank as the Nankai Hawks (bought by Daiei in 1987, moved in 1988, then bought by Softbank). (2) Nike has Nike inked a one-year deal with all six Pacific League baseball teams for undershirts. It only applies to rookies and players without apparel contracts. "¦ Not uni-related but fascinating: an article about the role of Jews in the Negro Leagues. Recommended (big thanks to James Ashby). "¦ Tons of great archival photos showing basketball in North Carolina here (nice find by Gerry Dincher). "¦ "Saturday was the Steelbowl, which is the annual rivalry game between University of Sheffield Sabres and Sheffield Hallam University Warriors, considered one of the biggest games in the British football calender, and is one of the oldest cross-city rivalries in British college football," writes Elliott Josypenko. "This year, over Christmas one of the former Warriors players died in a car crash, so both teams wore this 96 helmet decal." … Here's one of the best views of helmet flocking you'll ever see. (thanks Phil). … Cubs prospect Javier Baez has an MLB logo tattoo on his neck (from Garry Mitz). … A UK soccer fan wore a split French/Newcastle jersey the other day (from Mark Coale). … Good to see that Nike is now making Presidential shooting shirts. "¦ Here's a new one: HNOB. That's holy name on back (from Dave Wealleans). "¦ FNOB alert! That's Brad Oates of the USFL's Philadelphia Stars. His brother Bart was also on the team, and you can see evidence of his FNOB here (from Doug Keklak). "¦ Also from Doug: On a recent episode of The Office, Dwight designed new Dunder Mifflin uniforms. "¦ The Caribbean Series (not the Caribbean World Series, as many folks mistakenly refer to it) is currently under way, which means lots of comically ad-strewn uniforms (from Chuck Rios). "¦ UVA's NOBs are usually all-caps, like this, but freshman guard Teven Jones had a super-capitalized "J" in yesterday's game (good spot by Ricky Schumaker). "¦ RIP, André. Always loved playing with your invention.