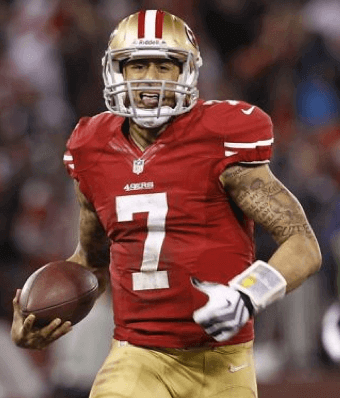 [Editor's Note: Today we have a Super Bowl-themed DIY project from Steve Speicher. Enjoy. "" PL]
By Steve Speicher
Last year, due to my second-least-favorite AFC team participating in the Super Bowl, I decided to make my own DIY Eli Manning Giants jersey. Being a Steelers fan, this year I have my truly least favorite AFC team in the Super Bowl, so I've decided to make the DIY jersey a tradition.
In keeping with the quarterback theme, I decided to go with a Colin Kaepernick jersey. The first step was to find a decent image that I could create the basic numerals and NOB from. I picked this, even though it was from a knock-off jersey web site. It was ideal because it provides a straight-on view of both sides of the jersey, and seemed to be fairly accurate.
Using Photoshop, I made a vectorized version of the big 7 (which also works for the TV numbers) and each letter of "Kaepernick." I could then scale these graphics to any size without losing image quality. I grabbed an image of the 49ers' wordmark from Chris Creamer's site and also used a vectorized version of the NFL logo that I had previously made for another project. Then I used these graphics to make a digital layout of the jersey.
I picked up a plain red T-shirt and took some basic measurements of it to create an actual-size template. Then, in Photoshop, I placed the the front and back jersey graphics on the template, and eyeballed their sizes until I thought it looked good. To try these graphics on the actual shirt, I printed some test sheets onto regular paper — first adding a thin red outline to all of the white-only graphics. I cut them out and laid them over the jersey to confirm their fit on the actual shirt. (I didn't bother to cut out each letter of the NOB for this — the printout was good enough.)
Satisfied that the sizes of the graphics worked, I printed the same sheets onto iron-on transfer paper made for dark cloth that I obtained from a craft store. This proved to be a much better method than I used last year (which was hand-painting with acrylic paint). I printed the graphics onto the transfer paper, and then tediously cut out each letter and number with a combination of scissors and a razor blade. Starting with the front of the jersey, I ironed each letter, number, and graphic onto the shirt — again by eyeballing what I thought was the the proper location — by peeling off the backing paper, positioning the transfer paper in the proper spot, covering it with parchment paper, and pressing it with a dry iron for 20 seconds.
Here's the front of the jersey after everything was ironed on, and here's the back. I then added the TV numbers to the shoulders.
For the sleeve stripes, I took a bit of artistic license. I'm not a fan of the 49ers' partial sleeve stripes, and accurately reproducing them would've been a bit of a headache. So I just decided to add true wrap-around stripes that align with the cuff. I made them easily enough by cutting out half-inch strips of transfer paper and ironing them on.
So after all that, here's the final result: front and back. It's hard to see from a distance, but I had a bit of burn-through, I guess, on the large 7s and a couple of NOB letters. I think either the iron was too hot, or I left it on for too long. It's a bummer, but not bad enough to prompt a redo.
All in all, it was a fun project — about $10 for the shirt and transfer paper, plus a few hours' work. Go Niners!
+ + + + +
ESPN reminder: In case you missed it yesterday, my latest ESPN column is the annual Uni Watch Super Bowl preview.
PermaRec update: A psychic visits a vintage store and tries to channel the stories behind the old clothing — that's the subject of the latest entry on the Permanent Record Blog.
+ + + + +
Uni Watch News Ticker: Here are some graphics from a group that's trying to bring the Hornets name back to Charlotte. They have their own uni design, too. … New logo for Harvard University Press (from Yancy Yeater). "¦ New mask for Maple Leafs goalie James Reimer. … Here's something I missed from last week: an absolutely gorgeous redesign for 7-Eleven coffee. Hmmm, wouldn't that stripe pattern make for a killer stirrup design? (Big thanks to Doug Keklak.) "¦ Teebz has discovered some good uni-related info about the California Seals. Recommended. "¦ This is pretty good: a periodic table of soccer players (from Cort McMurray). "¦ Soccer tidbit from Kenny Loo, who writes: "When Ivan Zamorano transfered to Inter Milan, his #9 shirt was taken, so he chose the number 18. But he placed a plus sign in between the numerals to simulate a 9. Clinton Morrison did something similar. I might get another membership card in honor of that." … Hey, look: the Harbaugh brothers in stirrups! (From Charles Bowman.) … While looking for something else, I came across a photo of the Caps' ill-fated white pants that I hadn't seen before. … New baseball uniforms for Michigan. "¦ I've been a 49ers fan for over 40 years, but here's something I didn't know: The Niners wear red and white because the original owners were alums of Santa Clara University, which also uses those colors (from Eric Iwamoto). "¦ Very interesting article on the company that made the Super Bowl jersey patches. "They use a process called Chromaflex," says Steve Foster. "Looks like we can expect to see these types of patches in other sports, as well as in law enforcement." Recommended reading. "¦ The Yankees tweeted this photo of Mark Teixeira making in appearance during a performance of Rock of Ages. "The logo on the back of his jacket seems to be a bit askew," notes Mikhail Herrera. "¦ Here's a ranking of all 47 Super Bowls based on their logos (from Coleman Mullins). "¦ Some family that appeared on Family Feud wore Rangers-style jerseys. "On the back they had FNOB with no numbers," says Ryan Risse. "¦ Here's a spreadsheet that shows which uniform each team will be wearing for each week of the upcoming UK Rugby Super League season (from Les McCaughan). "¦ Michael Princip just scored this awesome-looking 1957 Wilson football catalog, which includes a listing for those crazy plexiglass facemasks. "¦ New women's basketball uniforms for Baylor (from Ryan Robey). "¦ The Chilean soccer team Huachipato uses a jersey crest that should be familiar to Steelers fans (from Omar A.). "¦ Here's the soccer ball that will be used for the Champions League final (Kenny Loo again). "¦ Here are some of Nike's new sneakers for the NBA All-Star Game. "Durant's glow in the dark," says Ben Rushing. "¦ Lowell Wood plays on a rec league basketball team called What Would William Henry Harrison Do? Here's a team portrait and a close-up of the jersey. "¦ Yesterday I did something I hadn't done in over three months: I hopped on my bike and rode a few laps in Prospect Park. It was my first time back on my bike since the accident (even though my cast came off in late December, I was told not to bike for another six weeks after that), and it felt sooooo good.