Reader Scott Little, who co-owns Triangle Bowl in Longview, Washington, sent me a really great Xmas present: a copy of a new book called Vanishing Alleys, by photographer Kevin Hong.
The book features scores of photos of old-school bowling alleys (no auto-scoring at these places, kids) scattered around Washingon, Oregon, and Nevada. Here's a sampling, beginning with an Elks Lodge in Oregon that has a few lanes in the basement, complete with stadium seating (for all of these, you can click to enlarge):
See that green paint in the Elks Lodge photo? I really like how they used that same color for the gutters (the lanes on the right have black kiddie bumpers obscuring the green paint, unfortunately):
These next two photos show two very different styles of pinsetters, both of which I find extremely appealing: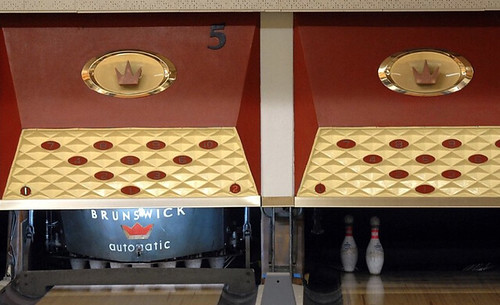 Ever bowl at a place with only two lanes? I've done it a handful of times. It's fun but also weirdly claustrophobic. This photo provides a good sense of what it's like:
The perfect number of lanes, I've always believed, is six. Feels friendly, sociable, just big enough to feel legit without feeling overwhelming, as nicely illustrated in this photo:
Here's something I've never seen before: six masking panels in six different colors:
Holy shit do I love it when the ball returns have these old Brunswick badges on them:
I really like how these lane numbers are freestanding, instead of being flush against the masking panel:
And let's go out with some serious eye candy:
Nice, right? You can order the book here. Strongly recommended.
Meanwhile, Scott got me another gift in addition to the book — this super-cool 1960s Brunswick decal:
That baby is definitely headed for one of my car windows, where it will no doubt increase the resale value multifold. Thanks, Scott!!
+ + + + +
ESPN reminder: In case you missed it yesterday, my latest ESPN column is about next Monday's BCS title game. One factoid I didn't include, because I wasn't aware of it until someone posted it in yesterday's comments, is that we should keep an eye on Alabama's helmet on the pre- and postgame sets.
+ + + + +
Uni Watch News Ticker: Word I'm hearing through the grapevine is that last week's ESPN column on MLB's new BP caps generated so much controversy and backlash against the Braves' "screaming Indian" design that the team may end up switching to another cap logo. If that happens, expect MLB to issue lots of revisionist-history talking points about how the Indian design was just "one option we were exploring" and that it was "in development but never finalized" and that the Braves simply "opted to go in another direction" or some such. But take it from me: That design was (and, for now, still is) good to go. As of today, it's listed in the MLB Style Guide. If the Braves ultimately abandon it, it'll be because they responded to the backlash, period. Which, of course, is precisely what they should do. Here's hoping. "¦ Adidas has unveiled the uniforms for the U.S. Army All-American Bowl, which is a high school all-star game. … The Adirondak Phantoms wore tuxedo-style jerseys the other day, which you can see at the bottom of this page (from Paul Saunders). … Very cool look at the National League Central Division teams reimagined as soccer clubs (from Phillip Foose). … Boston Public Library has just posted a bunch of old hockey pics, including this and this. And check out all the great jacket variations in this one (from Bruce Menard). … Texas A&M's police escorts for the Cotton Bowl will be wearing this motorcycle helmet design (from Andy McNeel). … Buried in this article about Boise State staying in the Mountain West Conference is the following: "The Mountain West will not regulate uniform colors and specifically will permit Boise State to wear blue uniforms at home" (from Chris Newbury). … Here's an interview with Adidas's main MLS kit designer (from Tim O'Malley). … Sad news out of Patriots camp, where equipment manager Don Brocher — the longest-tenured employee in the team's history — has passed away (from John Sheehan). … Florida State was playing in the Credit Card Bowl, so why was one of their players wearing an Insurance Bowl cap the other night? (From Robert Lim.) "¦ Speaking of the Insurance Bowl, Florida went with blue jerseys over orange pants last night. "I believe this marks the first time that Florida has worn that combination since they lost at home to Florida St. in 1999, which I believe was the only time they went with that combination during Steve Spurrier's tenure," says Rich Harman. "¦ New logo set for the K-League — that's Korean soccer. Further details here (from Dan Kurtz). "¦ A few days ago I asked why Longhorns WR Jaxon Shipley was wearing a ribbon decal in the Gas Station Bowl. The answer comes from Lance Fleming: "Talked to his parents and they said it's his way of supporting cancer awareness. He chose a purple ribbon to show his support for awareness of all types of cancer." "¦ Please join me in sending a big birthday shout-out to Uni Watch bench coach L.I. Phil Hecken. Hope you get everything you wish for when you blow out the candles, buddy!