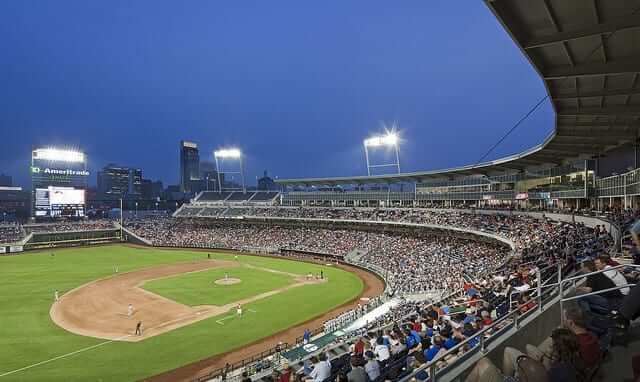 [Editor's note: One of our annual rituals here at Uni Watch is that bench coach emeritus Bryan Redemske, who lives in Omaha, always provides a rundown of the College World Series uniforms. Here's his report for this year's CWS. "" PL]
By Bryan Redemske
It's mid-June again, which in Omaha means it's time for oppressive heat, random thunderstorms, and the College World Series. This is the second year the Series will be played in its custom-built, $130 million downtown stadium. When the stadium opened last year, there was significant moaning about the "loss of tradition" in the shiny new ballpark.
But tradition is what you make of it, and people stopped whining when they realized the food was better, the parking was better, and there was a distinct lack of that stale-beer-and-pee smell that came with the old Rosenblatt Stadium experience. Mmmm … progress.
The College World Series starts tonight, and below you'll get a good look at what the teams are wearing. Please note that this isn't an exhaustive, comprehensive review "" it's merely a pretty solid guide for what you're likely to see. For a sport that ends its season with a week-long pageant on ESPN, college baseball is horribly covered for the four months prior to the Series. Finding every uni and hat combination borders on impossible. So with that caveat, here we go.
Stony Brook
Hey, who's the new kid? That would be Stony Brook, which is making its first College World Series appearance. Welcome to Omaha, Seawolves. (Zesto is overrated. Go to Ted and Wally's if you want some good ice cream.) Oh, and visit the zoo. It's nice.
Stony Brook is a Nike team, which is both good and bad. Good because it has a unified look, bad because of the Nike pits found on the team's white uniforms. The Nike pits serve two purposes, as far as I can tell: to let everybody know you're in a Nike jersey, and to compress any type that dares use that space. As you can see, it worked.
On the red jersey, which is what Stony Brook has been wearing most often lately, the Seawolves script is red and outlined in navy and white. It's heavy and hard to read from a distance. At first glance, I thought it said "Seminoles." And navy numbers on a red jersey, with no white outline? Come on now.
Stony Brook also has a white alternate cap, along with a gray cap and pants.
UCLA
At first glance UCLA is so close to winning this uni-derby outright. Look at all of this. Cuffed pants, stirrups "" a pretty clean look. Even the alternates are fine. I generally don't mind alternate jerseys, provided they fit with the rest of the design template.
But look at some of those close-up photos in the UCLA baseball homepage slideshow "" the piping. Armpits, backs of sleeves, collars. What the hell is that? It's clearly on a seam of some sort, but putting piping there serves no purpose other than to call out that there's a seam there. If MLB teams put piping on the seams of their Majestic Cool Base jerseys, it would look like that: dumb.
The result of that, other than bad piping, is a compressed script on the front of the jersey. Any reason for that piping (or that panel) to go so far to the front? Nope. So close, UCLA.
Arkansas
The baseball Razorbacks are a Nike team, which means the pits. There's a gray version, which I think looks better than the white one "" mostly because "Arkansas" is a little bit shorter than "Razorbacks," which graces the white jersey. Either way, that text treatment is pretty heavy. And having more text in the tail coming off of the "S" doesn't help.
Arkansas would be better off using the A that's on its cap as an upper-left chest logo on a jersey. And speaking of that A, it matches pretty much nothing on the rest of the uniform. You can see it pretty clearly in this view of the Razorbacks' red jersey. (The matte helmets look cool, though.)
There's one more little idiosyncrasy, here, too "" the white jersey doesn't have piping, but the gray and red jerseys do. Like they say with umpires: Be good or be bad, but at least be consistent.
Arizona
Another Nike team, another case of the … wait, no pits! So that's something. The confounding thing with Arizona, though, is the pinstripe uniform. Pinstripes are cool "" I have no problems with them. But the Wildcats have another set of white pants with no pinstripes, and they're worn with either the blue or red jerseys.
Ultimately, there's nothing here to write home about. I guess that's remarkable in itself "" a marquee Nike team keeping its head down.
Florida State
I remember writing a few years ago about the 13 or 14 different uni combinations (possibly an exaggeration) available to the Seminoles "" multiple whites, grays and alternates, comprising a couple of years' worth of uni sets, not really matching anything. It's only slightly better in 2012. Here we go: All-yellow, three different whites, two different grays, and a red jersey. And several different caps in there, too.
There's a definite reason to have an extra jersey in college baseball "" it cuts down on laundry during long road trips, which are fairly common. There's no good reason whatsoever to have seven different jerseys. But I guess they all last longer if you wash them less frequently. Maybe that's it? (Probably not.)
Kent State
If we're choosing a winner for "single best uniform," this cream-colored uni from Kent State wins. It's gorgeous. And this road throwback-style uniform isn't too shabby, either.
But there's also the modern-day unis, which aren't terribly impressive. Bright yellow is always bright yellow. Armpit panels are always armpit panels. And there's a gray version of that whole setup, along with a navy version, too. Photos seem to be in short supply, but it really doesn't matter. The only thing you need to look at is that cream uniform. Damn.
South Carolina
South Carolina is another of those multiple-personality teams, though it's supplied by Under Armor instead of Nike. How multiple? Three different whites, two grays, plus black and red alternates.
These are your two-time defending champions, people. Ugh.
For my money, the white/black, gray/black setups are the best. The script Carolina doesn't do it for me at all. Plus, it seems like the UA logo is taking up way too much space in the upper left. That is partly the point, of course. Still, let's stick with one uni theme at a time, huh? You don't see football teams collecting uniforms for a couple of years to give them more options, do you?
Florida
Not to be outdone by any multi-jersey fun, here comes Florida. But there's one reason I really don't mind with the Gators "" the look is consistent. I've said this before, since Florida seems to hang out around these parts a lot. But as long as your look is consistent, go nuts. Well, not too nuts, but you get the picture. Florida has a basic home and road setup, with alternate blue and orange jerseys. None of them are terribly exciting or remarkable "" they're solid.
The star of the show, however, is the throwback uniform, complete with striped stirrups and ORANGE sanitary socks.
Yes, please. Sign me up for that.
+ + + + +
ESPN reminder: Paul here. In case you missed it yesterday, my latest ESPN column has the results of the "Redesign the Astros" contest and some follow-ups on last week's "MLB Quirks and Oddities" column. You can read it here.
+ + + + +
Uni Watch News Ticker: The Brewers wore their navy "Milwaukee" jerseys last night, except for Martin Maldanado, who pinch-hit in the 9th wearing a navy "Brewers" jersey (screen shot by Dan Ullsperger). "¦ For years the standard photo of the Phillies' one-day solid-maroon uni has been this shot of Larry Christenson. But that may change now that Bruce Menard has come up with this awesome shot of Mike Schmidt. A major find. "¦ Prescott High in Wisconsin has some seriously awesome baseball uniforms. Also, check out the girls in the front row — looks like they're wearing T-shirts based on the uniform's vertical-type placket! Love it (big thanks to Jesse Bowen). … Urban Meyer recently threw out the first pitch at a Reds game and wore shorts and a tucked-in jersey (or hiked up to make it seem tucked in) — not a good look (from Jason Hillyer). … Sponsorship decals can no longer appear on NCAA basketball courts. Key quote, from Michigan State coach Tom Izzo: "They gotta get those things off [the court], man. They're just not safe. Let us wear the sponsor logos [instead]" (from Adam Jackson). … Man, talk about two players spanning the generations! That's a young Catfish Hunter perched on Satchell Paige's knee (nice find by Matt Mitchell). … Reprinted from yesterday's comments: This black Illinois helmet will supposedly be worn for a game or two this season (from William Jeffers). … Tim Newcomb, who wrote our recent entry about brown uniforms, should be happy now that the Vancouver Whitecaps (MLS) have unveiled a new brown third kit. "¦ Speaking of Tim, you soccer fans will be glad to know he's working on an MLS-themed entry, which I'll be running on the site soon, probably next week. "¦ Here are the Olympic track and field uniforms for the USA and Germany (from Jim McDannald and Leo Thornton). "¦ Robert Danneker found this KC Chiefs bowling pin at an antiques shop in Minnesota. "¦ Rex Ryan is "rewarding" Jets players with BFBS practice jerseys. Gross (from Robert Silverman). … New sweatbacks for Oklahoma State (from Arin Mitchell). … Remember that photo I recently ran of MC Hammer as an A's batboy? Brady Phelps started with that photo and went on a long investigation filled with tons of great uniform shots — recommended. "¦ A reader who prefers to remain anonymous was at the Nike offices yesterday and saw this new Villanova uniform. Hmmmm. "¦ The U.S. Postal Service is about to release a set of MLB stamps — nice (from David Teigland). "¦ Jeff Saturday, who was with the Colts for so many years, is now with the Packers, where some of his new teammates have had some NOB-based fun with thim (from Nicole Haase and Chris Howell). "¦ More tales of douche-y Olympics brand policing (from MJ Kurs-Lasky). "¦ I noted two days ago that Brian Roberts is now wearing a double-earflap helmet. But I didn't mention that the helmet is a Cool-Flo, which makes it unique on the Orioles, who haven't used Cool-Flos this season (good spot by Domenico Delgado). "¦ Here's a really good article about Mick Hoban, who was Nike's first-ever soccer employee and has lots of good stories about the company's early attempts to break into the soccer market. "¦ Lots of info about the American Olympic team's medal stand footwear and apparel here. "¦ Funny note from Trevor Williams, who writes: "Wearing a Uni-Watch T-shirt in the Jacksonville airport, I was on a moving walkway when a person going the opposite way pointed at me and said 'I know what that means!'" "¦ This is odd: 49ers receivers Vernon Davis and Michael Crabtree both wearing No. 85 in practice. Davis wears that number for real (from John Follett).