I've met a decent number of outsider folk artists over the years, but few have been as engaging or likable as Mr. James Frank Kotera of Lake Nebagamon, Wisconsin — or, as he prefers to call himself, JFK ("and I ain't been shot yet") — who I had the privilege of meeting last Sunday. What you see behind him is his giant ball of twine, which he's been working on for over 30 years and believes — knows — to be the world's largest. To be fair, there are other claimants to that title, but I bet none of them are as gracious as JFK.
Meeting JFK was the highlight of my recent Wisconsin getaway, which Kirsten and I spent in the state's northern region. I'll have more to say about him in a minute, but first here's a quick rundown of the trip's other high points:
• Taverns. Ah, Wisconsin bars — the best of the best. Must have stopped in nearly 20 of them during the trip. Yes, that's excessive, but you can't beat the mix of cheap beer, friendly folks, and time-worn fixtures, plus it's hard to resist a sign like this (for all of these photos, you can click on the image to see a larger version):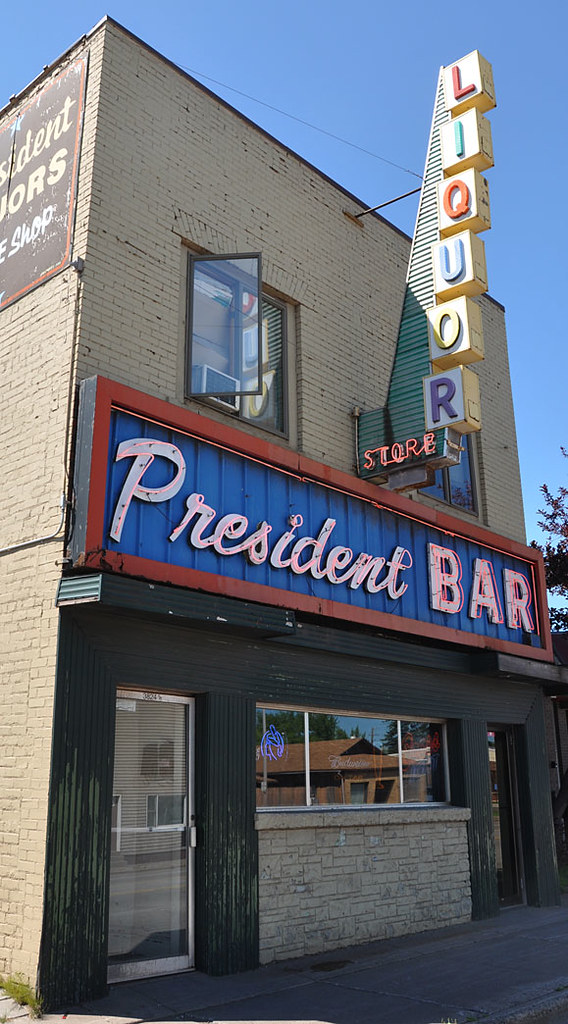 .
That's the President Bar in Superior, where we watched the first half of the Packers game on Sunday (and yes,
I was wearing my Packers dickey
for the occasion). For the second half, we moseyed down the road to the Old Town:
.
Another standout was Ken's Keyboard in East Farmington, owned by a now-retired accordionist who used to lead polka bands in the area:
.
Later that day, we arrived in Amery, home of the excellent Club 53 (whose interior is featured on the cover of this great new book
about Wisconsin taverns
):
.
While heading out of Amery, we spotted
this sign
. Although we'd already spent most of the day barflying, I'm a sucker for VFW halls, so we went down a back road and found this lovely spot:
.
Kirsten had never been to Michigan before, so on Monday we decided to cross the border and explore Ironwood, gateway to the U.P. That's where we found the magnificent Olkie's:
.
We meant to head straight back to Wisconsin after that, but we got sidetracked by the siren song of the Midway Bar:
.
And although the bar was only so-so, it's hard not to love the sign at Bob Smith's in Hudson:
.
There were more — the Blue Room in Ashland, Sunset Junction in Rhinelander, the Moccasin Bar in Hayward (which boasts an impressive array of
wildlife taxidermy
), a few more that I'm probably forgetting — but we didn't photograph all of them.
• Lodging. An embarrassment of riches. On the first night we stayed at the Black Bear Motel in Cameron (that's the best photo I could find online; neglected to take any of our own). On the second night we were at the lovely Edelweiss Motel in Hayward:
.
On the third night, we were driving through a fairly remote area — no motels, no cell phone service, no nothing. We thought we might be fucked, but there was a gas station in the tiny village of Port Wing, so we stopped to ask for advice. They were just closing up for the night, but they said, "Well, we have a few cabins, if that works for you — $30 for one night." And that's how we ended up staying here (the one in the foreground was ours):
.
Pretty damn adorable, right? And then it was back to a classic motel — the Arbor Vitae, in Woodruff — for our final night's stay:
.
•
Food.
Mostly unremarkable, frankly. We did have a bizarrely entertaining (if not particularly tasty) dinner at the surreal Turk's Inn in Hayward:
.
Somewhere between Bayfield and Ashland we followed a roadside sign to a restaurant that was, unfortunately, closed for the afternoon. I'm sure you can see why I reallyreallyreally wanted to stop there:
.
Our most interesting breakfast took place in Hayward on Sunday, when we attended a Knights of Columbus pancake breakfast to benefit some local kid's college fund (we had seen a sign advertising the breakfast the day before). We had thought this would be a fun way to meet some local folks, but we made a fatal miscalculation: The breakfast was held in a room at a Catholic church, and we arrived at 9:50am — just prior to the ten o'clock mass. As we walked in, all these other people were just finishing their breakfasts, and then they got up and walked over to the mass, leaving us to sit by ourselves. We continued to sit there, all by our lonesomes, as people poured into the church, walking right past us on their way to mass and giving us this look that even a blind person could have easily interpreted as "Hmmm, why aren't
you
going to mass?"
There were three men serving the breakfast — a swell server-to-customer ratio, since we were the only ones eating — and they were super-nice to us. Still, it was an odd scene. And it got a bit odder when the mass started and the audio was pumped into the room where we were eating. Excellent pancakes, though. A good meal and an enjoyably odd experience.
Meanwhile, here's a little local specialty I hadn't been aware of: In the town of Chetek, there's a luncheonette called Bob's Grill, which serves something called a Spudnik. It's basically a round donut fritter — think of a slightly oversized Dunkin Munchkin — made with potato flour. The interesting thing is the backstory, which is described on Bob's menu like so:
The Soviet Union stunned the world by launching Sputnik, the world's first artificial satellite, on Octoboer 4, 1957. … It had a profound effect on the world. The "Space Race" was on!

In retaliation to the Russians, Gert Pabich, owner and operator of Bob's Grill, did her own part to boost America's spirits in the space race. If the Russians could invent a Sputnik, she could invent a Spudnik! The potato-based donut hole was born and has been part of the fare at Bob's Grill for over 50 years.
How awesome is that?! We tried one (35 ¢) — tasty! Didn't photograph it, though, which is a shame, because all the usual roadfood web sites appear to be Spudnik-unaware. We did get a shot of Bob's sign, though:
.
•
Attractions.
You can't go to northern Wisconsin without stopping at the Freshwater Fishing Hall of Fame in Hayward, whose centerpiece is the world-famous walk-through fiberglass musky:
.
The giant musky gets all the attention, but the rest of the FFHOF is a surprisingly decent museum, with all sorts of informative exhibits about lures, rods, reels, lures, ice fishing, lures, outboard motors, lures, bobbers, and did I mention lures? You can see a few photos
here
.
But the biggest attraction was just being in the upper Midwest in early October. Fall colors were all around us, and there were tons of rivers and lakes to drive alongside — autumnal perfection. At one point, slightly outside of Bayfield, we took a nice hike up to some cliffs overlooking the big lake they call Gitche Gumee:
+ + + + +
So those were the basics of the trip. But now I want to get back to the big ball of twine. It took a little doing to find the right house, which is pretty deep in the woods, but we eventually spotted the giant twine ball (which is more ovoid than spherical) sitting in someone's side yard under a carport-style enclosure. There were no "Public Welcome" signs, no enticements to attract visitors — just your basic rural house with a giant ball of twine in the yard. Were we allowed to go look at it? Should we knock on the door first? What if the owner wasn't home?
All those questions became moot as we approached the house and a man emerged to meet us. He introduced himself as JFK and handed us two handwritten note cards — part visitors' program, part personal manifesto. (If you want to read the whole thing, which I strongly recommend, look here.) He happily fielded all our questions whilst philosophizing on a variety of subjects, most of them having to do with God and twine, usually in that order. The Cliff's Notes version breaks down like so:
• God told him to stop drinking in 1975, so he did. He started the ball of twine soon thereafter.
• He adds twine to the ball every single day.
• He knows how much the ball weighs (over 20,000 pounds at this point) because he weighs the loose twine before adding it to the ball.
• He's aware that there are other giants balls of twine out there, but "mine is the only real one, because I'm the only real JFK."
• Despite all the twine work, his hands are free of blisters and calluses — proof that they're really God's hands, not his own.
• For the past 31 years he's managed the local town dump, a career of which he's extremely proud. He's the only real twineman and the only real dumpman. (We were lucky to have visited during the weekend, or else he probably would have been at work.)
• He also has a much smaller ball — "Junior" — which weighs 47 pounds (and which we neglected to photograph, unfortunately). He takes Junior to work with him, "because lots of people have never seen a ball of twine before, and I can't roll a 20,000-pound ball around to show them."
All this information was imparted without a shred of bravado or ego. Just an aw-shucks deadpan leavened with a hint of Asperger's-ish tunnel vision. I suppose some folks might find him annoying, but I thought he was really charming.
Meanwhile, the carport was festooned with all sorts of handwritten signage:
.
If there's one thing I can appreciate, it's a guy with an obsession. I kinda wanted to stay there all day with JFK, but we had to keep moving. Still, it was a really wonderful encounter — one I won't soon forget. Thanks for listening.
+ + + + +
Bring to a boil: Surreal scene during last night's Yanks/Tigers game, as Detroit reliever Joaquin Benoit entered the game wearing a massive bandage on his face, the result of an ingrown hair that he'd unsuccessfully tried to excavate with a pair of tweezers. The umps, prodded by Yanks skipper Joe Girardi, had him remove it because it could supposedly have distracted the hitters. Benoit reluctantly complied, wincing a bit as he puuullllled off the bandage, revealing a nasty-looking boil. I spent the rest of that inning yelling, "C'mon, give 'em that ol' pus ball!" (Benoit got the last laugh, pitching effectively enough and getting rebandaged for the postgame celebration.)
The funniest thing about this is how ESPN's Yankees beat reporter, Wallace Matthews, described the incident: "Benoit [removed the bandage] with evident pain. Disappointingly, all it revealed was a patch of slightly reddened skin." Not sure how Matthews missed the boil (it was roughly the size of a Spudnik), but I love his use of "Disappointingly." Apparently he was hoping to see some serious gore. You'll have to go back to covering boxing if you wanna see that, Wally!
+ + + + +
Uni Watch News Ticker: In a move that had not been previously announced (at least to my knowledge), the Bruins wore Stanley Cup championship banner patches last night. "¦ So Oregon wore the jersey with the funny duck on the shoulders and Cal wore the white helmets with the funny stripe and they all lived happily ever after. "¦ Here's a Notre Dame style guide (good find by Brian Wysocki). … Douglas Ford's Mom was looking through her Bible and found some old NFL helmet drawings that Douglas had done in 1977, when he was eight years old. … The Knicks just posted a little uniform gallery on their Facebook page (from Alex Melendez). … The new Marlins logo has now been spotted on the seats at the team's new ballpark (from Alan Chewning). … Here's a rundown of why various Florida Panthers players chose their uni numbers (from Ryan Connelly). … The latest development in concussion prevention: padded strips on the exterior of the helmet. Hmmm, didn't they already try that back in the 1960s? Further details here (from Larry Bodnovich). … Mike Hersh found some cool stuff in the new Classic Auctions listings, including an official Bobby Orr wristwatch, an excellent Edmonton Eskimos cheerleaders outfit, an old NHL official's sweater (so much better than zebra stripes!), and an interesting Hartford Whalers alumni jersey. … Fairly unusual to see a 1940s leather helmet with a logo, or at least an initial. That's Thomas E. "Shanty" Hogan from the 1948 Arizona team (nice find by Calvin Farris). … Good interview with Nebraska's equipment manager here. If you don't have time to read the whole thing, just search on the word "Cody" for a good story about a jersey alteration (big thanks to Brian Hansen). … The Saints used two different number fonts in 1967. Tom Marcotte decided to DIY a Jim Taylor jersey with the "fat" numerals. "I started with a blank Durene jersey (which took quite a while to find)," he says. "I was going to hand-cut the numerals, but then on a whim I asked the good folks at Eastern Lettering if they had what I call the Southland/Cowboy numerals. Even though it's not shown on their web site, they were able to provide the numbers. The front are 10″ and the back are 12″. The stripes are 1″ old gold twill (also from Eastern) sewn onto black polyester material, and then that is sewn to the 3/4 sleeve." … The sweater-vs.-jersey debate refuses to die (from Andreas Papadopoulos). … The NBA lockout has led Bill Simmons to propose an alternate league with really lame-o uniforms (from Robert Silverman). "¦ Just what the world needs: corporate douchebaggery proliferating on college football zebras (screen shot by Ross Hazlett). "¦ According to a note in this story, Giants defensive lineman Justin Tuck is trying "a different facemask and shoulder pads in an effort to limit the pain in his neck."