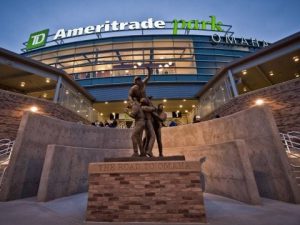 [Editor's note: Today Omaha native Bryan Redemske serves up his annual College World Series uni preview. Enjoy. "" PL]
By Bryan Redemske
Each year, ESPN focuses its cameras on Omaha for the College World Series "" the city's annual moment in the sun. The coverage typically turns into a love letter to the area via video montages, cute little kids in little league uniforms, ringing aluminum and panoramic shots of the neighboring zoo.
But the longtime home of the Series is gone now "" Rosenblatt Stadium is closed (you can buy a piece of it in at this auction), the festivities moved downtown to a new $130 million ballpark. If the previous 60 years of the College World Series in Omaha were a celebration of funnel cakes, front-yard parking in a run-down neighborhood, beer tents and RVs parked down the hill, from here on out it's all about the downtown skyline, the new ballpark and the sketchy warehouse district just a block down the street, out of camera view the NCAA-approved … well, everything.
Though the Series' setting has changed, the teams involved will be familiar to almost everybody "" even the most casual of college baseball fans … like pretty much everybody in the city that spent millions to lock up the tournament for another 25 years.
Unlike previous CWS pieces I've written for Uni Watch, what follows won't be a point-by-point rundown of every single uniform combination. Maybe it's because Florida State sucked the life out of me in 2008 (13 different uniforms, I believe), but mostly it's because I don't have access to the full-on, newspaper-style Associated Press photo wire. (I run a bike shop now and try as I might, I just couldn't get the owners to buy into a yearly AP subscription. It's a drag, but I manage.) What you'll see instead will give you an idea of each team's identity "" and what they'll bring to the table in Omaha.
Florida
Like a lot of Nike teams, Florida has a pretty consistent look on the diamond. Unlike football or basketball teams, college baseball programs are often left to fend for the scraps of athletic department budgets. As such, many of them cycle in a new uniform set over a span of two or three seasons. And sometimes you end up with the look that Oregon State sported on its back-to-back title runs a few years back: Lots of different jerseys with a bunch of different typefaces and logos. It's just what they had kicking around.
Florida doesn't appear to be one of those teams. The Gators have a home white set, road grays and a blue alternate. There's a white cap and a blue cap. Earlier this season, a retro-style jersey found its way to the field. And that's pretty much it. It may not be very exciting, but it's consistent. Points for that.
Texas
And while we're talking about consistency, here's Texas. The Longhorns have looked the same for a long, long time. There's a white pinstriped vest, a white sleeved jersey, a burnt orange jersey, a gray vest and a gray sleeved jersey (which was worn in the Series opener on Saturday). The burnt orange jersey is worn with both white and gray pants.
And as a side note, Texas is wearing custom Nike spikes while in Omaha. I don't imagine the state of Nebraska has often found its way onto the back of a pair of shoes.
California
If you're looking for the sentimental favorite in Omaha "" the team the city adopts and fawns over for 10 days "" Cal might be it. Last fall, the university announced it was cutting baseball, along with four other programs. This spring, thanks to a massive fundraising effort, baseball was spared. Two months later, the Bears are in Omaha. (Note to Bears: Omaha can't fall in love with you if you get eliminated on Tuesday.)
California, despite what its football team has worn over the past few seasons, keeps it pretty straightforward on the diamond. Home whites, road grays and an alternate yellow jersey. Best of all "" and this is true with most well-outfitted teams "" all of the uniforms look like they go together. Kind of like the Oregon (or Cal, really) football bit: It may be out there, but it's all one system. So in a strange, twisted way, it works. Cal's baseball uniforms just work.
Vanderbilt
While the other programs were pretty easy to find, Vanderbilt must have a cone of silence in place around its baseball program. There are photos for only three or four games up on the official website, and while the post-game YouTube videos of coach Tim Corbin's Q&A sessions are nice (seriously, they're up there and very thorough), they don't shed a lot of light on uniforms. This, from the No. 1-ranked team for a good chunk of the season.
The home uniform is a pretty classic look "" white, with black and gold. The pants stripes are maybe a little thick, but they're not bad. There's an alternate black jersey and … well, that's all there is. Seriously, cone of silence. Though I like what I see.
Texas A&M
Here's another media blackout school. Plenty of game reports, plenty of interviews … and no photos. Luckily, the Aggies have looked very similar for a number of years. The maroon jersey is worn with both white and gray pants, and the full gray set is pretty clean and classy. They only jersey that falls short is the white one, which has contrast-color side panels and pits.
As a side note, befitting of its history as a military school, Texas A&M wore camouflage jerseys earlier this season against Texas. It looked … well, better than the Padres, at least.
North Carolina
Last time around "" which here means last time I dug all of this stuff up "" North Carolina's equipment room caused me to reconsider the merits of the endeavor. Between the regular uniform set, the old regular uniform set and the "new for Omaha" uniform set, the Tar Heels' clothing options were pretty ridiculous.
This time around, there's the home whites "" the jersey is actually a sleeved one, not a vest "" and a pair of powder Carolina-blue jerseys. One has the familiar-for-baseball Carolina script, while the other is pretty reminiscent of the Kansas City Royals' old look. The retro-style jersey has also been paired with matching pants and … for a good reason, at least … pink socks.
In the past, navy blue jerseys and caps have been in the mix, though it looks like the 'Heels have toned it down a bit there. It's mostly Carolina blue and white, which is what teams from Chapel Hill should be wearing all the time, anyway.
South Carolina
Remember earlier when I mentioned schools that have too many jerseys in play, and they don't look like they go together? That would be South Carolina, the defending national champion. Really, there are two distinct sets: the "classic" set and the "newfangled" set.
The "classic" set has a pretty simple home white/road gray thing going. The other has a funky script that's hard to read "" especially on the red jersey. The pinstriped set is OK, but that wordmark is pretty heavy. If it was just a matter of the "classic" set, I'd say South Carolina would be in the running for best-dressed at the CWS.
Virginia
The top seed in the CWS, the Cavaliers almost "" allllmost "" went off the deep end with jerseys. I've long enjoyed the interplay between navy and orange, and it's especially cool when properly executed on a baseball uniform with a bit of white. So I'm digging the home white set. And I like the navy alternate, too. The orange … well, if you must. Retro? Eeesh. Camouflage? Come on, now.
You had me through the first two jerseys, Virginia. But what's this? A second blue jersey? And check out No. 18 on the left "" Tyler Wilson. No captain's patch on the second blue jersey.
Points for looking good no matter what (minus the camo bits), but points taken away for two different jersey typefaces. Also, that "V" on the caps matches pretty much nothing in either uniform set. So close, Virginia.
""
Sadly, it's not all about baseball in Omaha this week (or next week or next month). The Missouri River is out of its banks, and it's only going to get worse. For a look at life outside the ballpark, check out this story by my former newspaper colleague Liz Merrill.
———
Paul here. Major thanks to Bryan for compiling this report. The bike shop's gain is definitely the Ohama World Herald's loss.
+ + + + +
The last word: I don't listen to ESPN's "Hockey Today" podcast, but reader Trevor Williams does, and he informs me that the podcast crew — Barry Melrose, Steve Levy, and Scott Burnside — wrapped up the NHL season by engaging in a bit of uni-related banter, as follows:
Barry Melrose: It's great that the Boston jersey won. Let's admit it — the Boston jersey is a hundred times better-looking than the Vancouver jersey.
Steve Levy: Than any Vancouver jersey in Canucks history.
Melrose: Actually, it's a million times better than most of the Vancouver jerseys. It's only a thousand times better than the Vancouver jersey now. So we've got a beautiful jersey that won the Stanley Cup.
Levy: We're on a good here stretch, right? You've got your Blackhawks jersey winning last year. Here's the Bruins. Maybe the Leafs turn next?
Scott Burnside and Melrose: Ohhhhh!
Burnside: It is time to go.
Melrose: It's not a fantasy show.
+ + + + +
A good walk spoiled: Expecting to see uni-related U.S. Open coverage here today? It's coming — tomorrow. For now, we'll just mention that Frederick Jacobson missed a belt loop during yesterday's round (a good spot by Jason Lord). More tomorrow.
+ + + + +
Uni Watch News Ticker: I'm not sure who Kuehl Becker is or what he did, but he definitely did it. "¦ Someone on Etsy is making really nice DIY standings signs. Lots more available, in various sports, here (nice find by Ben Traxel). "¦ Chad Todd found a really gorgeous 1964 Schwinn bicycle catalog. "¦ Here's a little piece about the Dolphins' various shades of aqua over the years (with thanks to David Millheiser). "¦ Interesting note from Tyler Kepner, who writes: "Saw Seth Meyers at Wrigley on Friday singing 'Take me out to the ballgame.' Of course he was wearing a Cubs jersey, No. 21, which I figured would be his number, because on Twitter he's @sethmeyers21. I know he's a Red Sox fan, so I thought maybe the 21 was for Clemens. Nope — turns out his dad loved Roberto Clemente. So there you go." "¦ Ladies and gentlemen, I give you the Cornhusker State the Swoosh State. Texas will be wearing that shoe design in the College World Series, which of course is played in Omaha (with thanks to Ken Singer). "¦ Michigan football doesn't have a mascot — yet (with thanks to G.R. Brackle). "¦ Charlie Samuels's day in court will come at the end of next month. "¦ Don Montgomery notes that the Bruins banner hanging at City Hall in Boston has the wrong logo. The "B" should have serifs. "¦ "Everything I Know about Postmodernism I learned from the Phillies" is a fun article title, even if the actual article is only so-so (with thanks to Chris Cocca). "¦ Okay, the whole naming rights thing has now officially gone off the deep end. "¦ Ben Revere of the Twins laid out for a great catch on Friday night and ended up breaking his belt. You can see video of the play here (with thanks to Blake Meyer). "¦ While doing a bit of vintage shopping on Saturday, I came across a sweater with a tag that made me smile. "¦ The video on this page shows that the Red Sox posted a congratulatory sign for the Bruins at Fenway (with thanks to Ryan Mandel). "¦ Why do Cerezo Osaka's uni numbers include a little flower illustration? "Because 'cerezo' is Spanish for 'cherry blossom,'" explains Jeremy Brahm. "¦ In a move that will surely go down as one of the legislative triumphs of the 21st century, the state of Ohio is on the verge of allowing people to bring concealed guns into sports stadiums. That noise you just heard was Mike Brown ordering bulletproof glass for the owner's box at Paul Brown Field. "¦ Turns out that that 9/11 decal is being worn by all New York-Penn League teams, not just the Brooklyn Cyclones (as noted by Dan Cichalski). "¦ Two high school baseball notes from Pennsylvania: North York High uses the Yankees' NY cap logo, and Tunkhannock High wears uni numbers on the back of their caps (with thanks to Art Savokinas). "¦ Does Nick Swisher always wear a flapless helmet for BP? "It's definitely his helmet, because it has his uniform number on it," notes Matt Bierman. "¦ Samm McAlear notes that Chisox catcher Ramon Castro has his uni number on his shinguards. And while we're at it, when did that last little shingard extension — the part that extends out beyond the toe — come into being? Definitely didn't exist in the '70s or '80s. Always looks sorta caveman to me, like something from a Neanderthal skeleton. "¦ Really interesting article about trying to make aluminum bats play more like wooden bats. "¦ A Walmart in Miami was selling Heat championship T-shirts the other day. Oopsie. "¦ The national anthem was performed yesterday at Nats Park by a guy playing a bat-shaped fiddle (with thanks to John Muir). "¦ Major, major find by Daren Landers, who came up with the Reds' page from the 1981 MLB style guide. Among the highlights: (1) The stirrups are specifically designated as "Low Cut." (2) Sannies! In a style guide!! (3) Interesting to see that the home jersey has set-in sleeves while the road jersey is raglan. (4) Does anyone remember ever seeing that jacket? Cuz I sure don't. "¦ A bunch of Cards went hig-cuffed and stripe-socked again yesterday. "¦ Another team showing the striped hose yesterday: the Rays. I'm not positive, but I think the whole team was doing it. "¦ Meanwhile, have I mentioned that this patch is totally freaking huge? Yes, I have, but it's worth mentioning again. "¦ Looks like the Gary Railcats were wearing some very old-school throwback jerseys (but not pants) the other day (with thanks to Bob Delano). "¦ Dan Cichalski has come up with what must be one of the all-time worst Topps airbrush jobs. "¦ You Learn Something New Every Day Dept.: Remember when Giants Stadium has the old Meadowlands logo at midfield? What did those four blue stars stand for, anyway? Turns out each one represented a property run by the New Jersey Sports and Exposition Authority (great info from Mako Mameli). "¦ Oh fer Chrissakes, did MLB really put the date on last night's Wrigley Field bases with a semicolon instead of a comma? C'mon, gang, that's third grade stuff (good spot by eagle-eyed Justin Bates). "¦ Some chick at Wimbledon is apparently determined to make a fool of herself (thanks, Brinke). "¦ You don't often see the letter "A" with an ogonek. That's MichaÅ' BÄ…kiewicz of the Polish mean's volleyball team (big thanks to Jeremy Brahm). "¦ Small photo, but on July 7 the Angels will be giving away a "flashback cap," which features every cap logo from the team's history — "except the late-'90s Disney logo, which is notably missing," says Michael Sambuceti. "¦ Auburn's players got their BCS title rings last night (with thanks to Jeff Hunter). "¦ The police force in Victoria, Australia, is getting New York-style uniforms (as noted by Murray Conallin). "¦ Mike Rowinski notes that until last week the A's had only worn their gold alt jersey when Gio Gonzales pitched. But they've now worn the golds for five consecutive games — and have won all five of them. "¦ Big Uni Watch get-well wishes to Packers seamstress Marge Switzer, who fell while doing some yard work the other day and suffered a few broken bones. Marge (who I had the pleasure of interviewing a few years back) is an essential member of the Packers family and of the larger uni-verse. Here's wishing her a speedy recovery.