Back in the '90s I knew this guy named Spike Vrusho, who was a gifted writer and sort of a beatnik/bohemian sports nut. A devoted Pirates fan, he published a zine called Murtaugh, which featured, among other things, a hilariously scabrous Tony Millionaire comic called "Batty" and some epic poetry along the lines of "Ode to Marge Schott" and "Dallas Green Is a Douche."
Murtaugh's recurring visual motif was a rocking chair — a reference to the Danny Murtaugh photo you see at right, although I'm not sure how many readers got that, or even cared. It's a sensational photo: the rocking chair with the floral upholstery, the stirrups, the milk being poured into a Coke cup, the spittoon, Danny's Abe Vigoda-esque visage. It is almost certainly the best Danny Murtaugh photo in existence.
But we now have a strong contender for second place.
First, a bit of background. You undoubtedly know that the Pirates wore a circular "21" memorial patch for Roberto Clemente in 1973. Memorial patches with the deceased's uni number or initials are common now, but the Clemente patch marked the first time an MLB team had memorialized someone in this way. All previous memorial gestures had involved black armbands or strips of black crepe.
Here's the part you might not know: The Clemente patch was added for the '73 regular season, but the Pirates had used a black strip of fabric during spring training. As you can see in those shots, it was sewn down or adhered in the center but not at the ends. Hall of Fame curator Tom Shieber tells me that's how it always looks in photos he's seen.
Now that you've processed that, check out this:
Reader Mako Mameli sent me that photo yesterday. If you can get past the priceless crankypants look on Danny's face, you can see that he's wearing the Clemente patch loosely adhered over what appears to be a black square. Looks like they snipped off the loose ends from the spring training patch, left part in the middle that was sewn down, and then covered it up — or tried to — with the Clemente patch. Doesn't look like much of a patch, though, does it? Almost looks more like a paper facsimile. Maybe the cloth versions weren't ready on time..? Very odd.
The photo isn't dated, so it's not clear whether it was taken toward the end of spring training or the beginning of the regular season. But the bricks in the background sure look like Wrigley, no?
If we check Pittsburgh's 1973 game log, we see that the Buccos played their first game at Wrigley on April 21st — two full weeks after the start of the season. Did the whole team really go that long with makeshift patches? Or maybe Danny's real patch fell off and they had to replace it with a temporary version..? Jerry Wolper and all you other Pirates historians out there, let's hear what you know about this one.
As for Spike Vrusho, last I heard he was driving a cab upstate, which I see as a bit of a literary tragedy. I doubt he'll be reading this, but just in case: Spike, this one was for you.
(Special thanks to Todd Radom for providing the rocking chair photo.)
+ + + + +
Collector's Corner, by Brinke Guthrie
On eBay, I usually head straight for the '70s, then '60s. Lately, though, I've been finding some cool stuff before those eras, though. (Do I even need to bother with the '80s and '90s?)
• I remember these — NHL and MLB patches from Kraft, early '70s.
• Sears: your NFL HQ. Back in the pre-eBay days, you bet it was.
• Absolutely terrific vintage Astros bobble.
• Here's a great Reds iron-on patch from way back.
• Aaagh — a 1971 Stars-Colonels ABA championship program. I distinctly recall my mom waking me up after the deciding game to tell me the Colonels lost. Me, groggy: "Did they…..?" Mom: [Shakes head sadly.]
• Staying with the Colonels, check this set of Volpe tumblers. Be careful, too — I got some water inside the seals of mine after searching for them for years.
• And for PL, to mark the imminent end of Jerry Manuel's managerial reign, here's a Manuel-signed baseball.
Seen something on eBay that you think would make good Collector's Corner fodder? Send your submissions here.

+ + + + +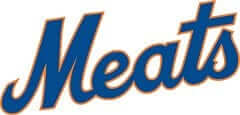 No "Los Meats" version — yet: The Meats T-shirt momentum continues to build, thanks in part to a nice little item on the Serious Eats site.
Meanwhile, for you NYCers who haven't yet taken the plunge, Meats tees will be available this Sunday at the annual Atlantic Antic street fair, where once and future Uni Watch advertiser Deb "Miss Wit" Goldstein will be selling them alongside all her own T-shirt designs. Deb's table will be on Atlantic Ave. (duh) between Bond and Hoyt, on the south side of the street.
Giveaway results: You are a winner! If your name is Joseph Duider, I mean. As for the rest of you, we've have more giveaways soon.
ESPN reminder: In case you missed is yesterday afternoon, my assessment of the NBA's new uni system is now available for your enjoyment.
Signal flare: Hey, Joseph Barrie — I got the package (thanks!), but I have a question about it. If you have a sec, please shoot me a note. Thanks.
Too good to be buried in the Ticker: Back in the 1930s, a Canadian food operation called the St. Lawrence Starch Company began offering free photos of hockey players. These shots became known as Bee Hive photos (a reference to one of the company's products, Bee Hive Golden Corn Syrup). The promotion lasted until 1967, by which time over 1,000 photos had been produced and literally millions of copies distributed to Canadian consumers.
I learned all of that from the Bee Hive Hockey Photo Museum, a dynamite site devoted to documenting the Bee Hive photo oeuvre, as it were. In addition to showing photo after sensational photo, the site also offers lots of background info (like what consumers had to do to obtain a photo). My only gripe: If you're gonna show amazing documents like company letterhead, why make them so small? But that's a minor quibble with a site as good as this one. Check it out (and while doing so, tip your hat to reader Jake Doyle, who brought this one to my attention).
Uni Watch News Ticker: The ever-awesome Fleer Sticker Project just ran a great post showing some original NFL photos and their airbrushed, logo-free Topps card counterparts. "¦ Here's our first look — or at least my first look — at college football zebras wearing the NFL-style cold-weather black slacks. That shot is from a D-II game last weekend in Duluth, where Stephen King confirms that temperatures were indeed on the brisk side. "¦ Here's a new addition to our collection of swastika-clad teams: a 1908 Native American hoops squad. As we've discussed many times here on the site, the Swastika used to figure prominently in Native American traditions, so it's not surprising to see that a team was using it in the pre-Nazi era. The photo was sent my way by Don Gale, who also found this amazing shot of an early-1900s Philipino women's hoops team. "¦ Jonathon Binet notes that when the Niners retired Jerry Rice's number on Monday, Rice wore his Hall of Fame blazer for the pregame ceremonies and then switched to a Niners Hall of Fame blazer at halftime. Do other teams have their own HoF attire? "¦ Teebz recently attended a Dodgers/'Stros game in Houston and noticed something odd: The Dodgers players with single-digit uni numbers were all shown on the scoreboard with zero as part of their number. "¦ Best/worst story of the year: An Italian soccer team with miserable attendance has "filled" its stadium with phony, printed fans. If you check out the game highlights on YouTube, you'll see the "fans" looked surprisingly real (with thanks to Jeremy Richardson). "¦ According to a small passage in the middle of this page, Nats phenom Bryce Harper says he's a Cowboys fan in part because "I love their uniforms. They're just a pretty team (with thanks to Jason Millman). "¦ Good view of Joe Theisman's jersey pockets (with thanks to Josh Lassiter). "¦ Several readers have noticed that the Knicks have a new collar. Actually, quite a few NBA teams have updated collar formats this season. This has nothing to do with the Revo30 system — it's something the league had been wanting to do anyway. I'll have complete details as part of my annual season-preview column next month. "¦ Special thanks to Keith Goggin, who sent me this cool houndstooth-trimmed Alabama pencil. "¦ Here's a Jerry Reuss follow-up: Several readers noticed a discrepancy in Jerry's stirrup striping in these two photos. The shot on the left, of course, shows Jerry in his Tulsa Oilers days. Not sure if that stirrup pattern, with a navy stripe in the center, was ever used in the bigs. The version on the right, with a red stripe in the center, appears to have been the Cardinals' basic design through various eras. "¦ Brian Pettit has imagined what a Uni Watch hockey uniform might look like. "¦ My longtime pal Dave McAninch, a keen observer of urban ephemera, has started an excellent new blog called The Unseen City, in which he's documenting old signs, old businesses, and overlooked neighborhoods, mostly in Chicago. Highly recommended. "¦ Here's the 50th-anniversary patch the Angels will be unveiling today. The weird thing is that the halo at the top of the logo is gold, because that's the anniversary color, while the one on the A is still silver, because that's still the team's primary logo. … Admirably detail-oriented catch by Jude S., who notes that the black outlining on the Astros' NOB lettering doesn't extend to the underside of the diagonal strokes of the M, but it does extend to the analogous portions of the W. Inconsistent!