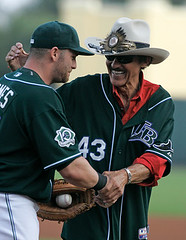 You probably know that the Devil Rays played a few "home" games in Orlando last week at the Disney Wide World of Sports Complex, which, despite having only 9000 seats, was no doubt an upgrade over Tropicana Field (and where, as you can see at right, Richard Petty threw out the first ball for one of the games). Reader Andrew Ranck attended one of the games and documented some interesting factoids regarding the 246th stadium to host an MLB game:
The field in front of the dugouts had logos commemorating the 10th anniversary of the complex (who knew). The on deck circles had MLB logos on them, and they seemed pretty worn. I'm guessing they may have been spring training holdovers, but they didn't seem to get much use anyway.

Left field had a collection of pennants representing some of the Rays' regular sponsors. Also the area beyond the left field fence was grassy, with families spread out on blankets and kids running around.

Center field was pretty bare, and the scoreboard gave little batter information. Besides the line score and the current count, we only saw the batter's uniform number and batting average. Right field had a temporary Jumbotron, which only displayed the basic graphics from the player intros and whatnot. In the foreground of that last photo, you can see the soft drink race, which took place after the 4th inning.

The only beers for sale that I could find were 24-ounce cans (for $8.50!). The Anheiser-Busch products had Rays logos on them. This surprised me, because Disney is known for not selling that much in the way of A-B products, because Busch Gardens and Sea World are main competitors.
Thanks to Andrew for the first-hand report. Meanwhile, if anyone wants to give a similar account of the proceedings at the Trop, that might be amusing.
Uni Watch News Ticker: Big kudos and thanks to Trevor Williams of the Brainerd Dispatch, who attended the Uni Watch party in Minneapolis two Saturdays ago and then wrote this very nice article about it. … Lotsa stuff you might have missed over the weekend, beginning with Boise State's new football jerseys, which were unveiled late on Friday. They'll look like this, this, this, and this. Further details here. … Also from Friday: Roger Clemens warmed up for his minor league season debut wearing high cuffs and white-striped Adidas cleats but later switched shoes and pant styles. … Reprinted from Saturday's comments: Friday's blog entry about Chris Sampson being told to remove his hospital bracelet (in case you missed it, look here) should have included a reference to Rob Mackowiak, who hit two home runs while still wearing his hospital bracelet on the day his baby was born back in 2004 (full details here). … It was Armed Forces Night in Milwaukee on Saturday, with the Brewers and Twins wearing military-themed caps. … Interesting thread on the Chris Creamer boards regarding the Cincinnati Jungle Kats, an AF2 team with a pretty innovative helmet design. … More arena football news from Michael Alper, who notes that Kenny Higgins of the Nashville Kats (again with the stoopid spelling) is wearing red shoes, even though there's virtually no red in the team's uniform. … The Orioles are denying reports that they'll put "Baltimore" on their road jerseys next year (as forwarded by Jason Reddish). … Antiques Roadshow recently had a nice little segment on this medal. Details here (with thanks to Jeremiah Conway). … Anyone know why a manufacturer would refer to this pant style as a "Clemson Cut"? Also, who knew there was a hidden interior stirrup in there? (Good find by Rick Subrizio.) … Grant Emerson notes that Angel Pagan's helmet logo appliqué has been crooked lately. … Club Deportivo Chivas USA has a new jersey sponsor. Full details here (with thanks to Jeffrey Israel). … If you're interested in Tennessee high school uniforms, tons of photos are available here (courtesy of Marc Walls). … Texans cornerback Jason Simmons came up with a novel way to sell his uniform number to new teammate Ahman Green. … Ronnie Poore noticed something interesting in this photo of the 1965 NFL draft: The little figurines on each desk are wearing stirrups, instead of football-style socks. Most NFL players did wear stirrups in those days, but they also wore shin-length white socks over them — odd that the figurines didn't get that final finishing hosiery touch. … Good story here about this Texas company, which makes varsity/letterman jackets. Further background info here. (With thanks to Matt Mitchell.) … Follow-up report from Jen Muller, who recently provided the photo of Dane Richards with his name misspelled: "At a Red Bulls 'meet the team' event on Saturday, I had a chance to ask Richards if he knew his name was spelled incorrectly on his jersey. He said he had no idea until he saw it later on the internet. Maybe he's a Uni Watch fan." … Check out the socks on Dong Tam Long An of the Vietnamese soccer league, who's been playing in the AFC Champions League this year (as spotted by Jeremy Brahm). … Can't say I thought much of Cory Spinks's trunks or glove colors during his fight against Jermain Taylor on Saturday night. Weirdest bit: When Spinks's trunks started slipping down, his corner tried to secure them with tape around the waistband — never seen that maneuver before. Meanwhile, check out the fringe on Taylor's trunks. … Former Knick John Starks is promoting a new line of basketball warm-up pants, which are supposedly easier to pull off in one motion. Details in the "Starks to NBA" section about two-thirds of the way down this page (with thanks to Eric Stangel). … Lots of great stripes on display in this rugby photo, taken by Rick Collins. … Odd logo/number format being worn by the Texas City Stings (good catch by Seth Harris). … A little birdie tells me that the U. of Texas hoops team will go to Nike's tight-fit jerseys next season. … Matthew Lepke notes that as of yesterday, Ron Gardenhire was still wearing his Mother's Day ribbon on his windbreaker. … Matt Meltzer and I both want to know what's printed on Dice-K's left undersleeve. … Seth Horowitz forwards the following, from yesterday's NY Post: "Tom Nieto, the Mets' catching instructor, now has a tilde over the 'N' in 'ÑIETO' on the back of his jersey. He didn't have one in his previous two years with the Mets but had it switched this season so that it would be properly pronounced." … Nike's latest brainstorm: a new and "improved" design, featuring a black jersey, for the Miami baseball team. … Awesome stirrup display by Brian Garman of the UC Bearcats (with thanks to Buckeye Mike, who says he's known Garman since they were both about five years old). … Uni Watch design director Scott M.X. Turner and I attended last night's Yanks/Mets debacle. The shameful truth: I was cold, tired, and depressed by the game's proceedings, so I left in the middle of the 8th inning. Let the record show that Scott stayed to the bitter end.